Province to receive less NTA next year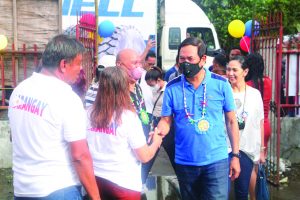 TACLOBAN CITY – The Leyte provincial government assured Thursday (Dec.15) that the delivery of basic services will not be affected next year despite a slash in the share of national tax allotment (NTA).
Governor Carlos Jericho 'Icot' Petilla said the local government will work on a tight budget, but hospital operations, education, social work, and distribution of assistance will not be affected.
"We will be careful in our spending. If there are important projects that needs financing, we will enter loans. What will suffer are infrastructure projects such as the construction of gymnasiums and farm-to-market roads," Petilla told the Philippine News Agency.
Records from the Department of Budget and Management show that NTA for Leyte provincial government dropped to P3.12 billion next year from this year's P3.7 billion or a reduction of P530 million.
The DBM said the reduction was due to a drop in taxes collected by revenue agencies at the height of the pandemic in 2020. In computing the NTA, the government uses as base period the three years preceding.
In the case of 2023, the budget of local governments is measured against the revenues raised in 2020 when the collection was low due to Covid-19 restrictions.
"This is just temporary as we expect higher allotment in 2024. We just have to make a little adjustment," Petilla added.
Leyte is still an NTA-dependent province with 89.16 percent of its budget in 2022 comes from its share of national taxes.
Of the P4.15 billion budget this year, P3.7 billion are sourced out from NTA, P250 million from business and service income, P130 million from other external receipts (collection from Philippine Health Insurance Corporation), and P70 million from tax revenue.
SARWELL Q. MENIANO/PNA