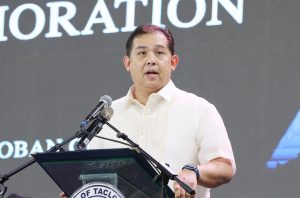 TACLOBAN CITY – The provincial government of Eastern Samar celebrated its 58th founding anniversary on Thursday (Nov.9) and inaugurated its new provincial capitol building with House Speaker Ferdinand Martin Romualdez as the guest.
The construction of the new provincial capitol building started last July 2020.
Romualdez noted that his presence at the 58th founding anniversary was a breath of fresh air for him since most of the time of his visit to the province happened after a calamity hit the province with the 55-year-old capitol building used as storage of relief goods.
"This building is more than a physical structure. It represents our commitment in making government service more accessible particularly to our most vulnerable community," Speaker Romualdez said in his message.
Moreover, Speaker Romualdez informed those in attendance of the measures that the Lower House took to help college students on a bill creating two satellite campuses of Eastern Samar State University (ESSU) in the towns of Arteche and Balangiga.
These bills are House Bill 2347 which seeks to establish an ESSU satellite campus in Balangiga and HB 5726 converting the ESSU satellite campus in Arteche into a regular campus.
The House has already approved HB 2347 and is already transmitted to the Senate while HB 5726 is undergoing committee deliberations in the lower chamber.
"It is an acknowledgment that the quest for knowledge knows no bounds and that the doors of education must be opened wider to embrace all those who seek it," Romualdez said.
Aside from the two bills, the Speaker added that they also filed a bill in Congress, HB 5731, that seeks to establish a Land Transportation Office extension in Dolores town to lessen the long queue of driver's license applicants in Borongan City and bring government services closer to the people.
"This bill is more than just a legislative measure but this is a testament that your government is committed to serving you better," he added.
Romualdez was joined by Governor Ben Evardone, Undersecretary Terence Calatrava, 4Ps party-list Rep. Marcelino Libanan and Rep. Maria Fe Abunda along with members of the provincial board headed by Vice Gov. Maricar Sison-Goteesan, and mayors of the province.
(ROEL T. AMAZONA)