Harnessing renewable energy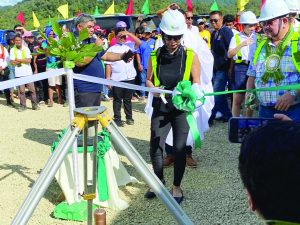 TAFT, Eastern Samar-A solar farm project based in this town had its groundbreaking Friday(April 21)which is projected to help not only provide a sustainable power source in the province but also help reduce its high current power rate.
The solar farm, located in Barangay San Rafael, has a capacity of 20 megawatts, almost enough to supply the current needs of the entire province which now stand at 23 megawatts.
Benjie Picardo, the president and CEO of the Taft Solar Project, said that they are upbeat that once the proposed solar farm project will be operational, they can help the power needs of the entire province who has been experiencing not only a high cost of power rate but also unstable supply.
This is on top of complying with the mandate of the national government to harness renewable energy sources as a way to help reduce carbon emissions and mitigate climate change.
The company has earmarked P250 million for this project which is expected to be operational by September of this year.
Energy Undersecretary Sharon Garin, who graced the event, said that she is happy that the province will have now its own source of power, saying this could be a model for the same project in the country.
She vowed that their office, the Department of Energy, will commit itself to help the Taft Solar Project, accomplish its solar farm project in this town.
She also said that she is glad that the company is into harnessing renewable energy source to provide energy, adding that the solar farm project in this town will assure "energy security" in the province, in particular.
Garin also said that Taft will be the first in the country to be power sufficient based on renewable energy.
The move is in support of the department's goal that by 2030 the country will be using at least 35% renewable energy and by 2040at least by 50%.
For his part, House minority floor leader Rep. Marcelino Libanan of the 4Ps party-list group also commended Picardo for putting up a solar farm in the province.
He said that once the solar farm project starts to operate, it could help the province to have a sustained power supply but achieve a lower rate.
At present, the power rate in the province stands at P19 per kilowatt hour.
He encouraged the Eastern Samar Electric Cooperative (Esamelco) to procure its energy supply to Taft Solar Project.
At present, the power cooperative gets its power needs from GN Corporation, which is based in Bataan, which is a coal-source.
It was learned that the Taft Solar Project pegged its rate per kilowatt hour at just P5. 07. In contrast, the Esamelco buys its power needs at about P9 per kilowatt hour.
Atty. Jose Michael Edwin Amancio, the general manager of Esamelco, said that while they welcome the solar farm project, they could not just rescind its contract with GN Corp. which is good until 2040.
He, however, said that they could still procure power supply from Taft Solar Project in case of an emergency situation, noting that it has an emergency contract with Energy Development Corp. (EDC) for 15 megawatts and another five megawatts from KEPCO.
He projects to get at least four megawatts from the Taft Solar Project.
JOEY A. GABIETA/LIZBETH ANN A. ABELLA