It's a 3-repeat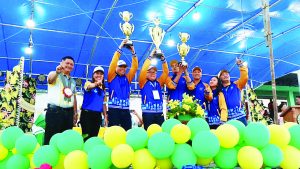 TACLOBAN CITY – Ormoc City Division remains the undefeated champion at the biggest regional sporting event sanctioned by the Department of Education (DepEd), the Eastern Visayas Regional Athletic Association (EVRAA) Meet.
With a haul of 178 gold, 104 silver, and 70 bronze, Ormoc City Division topped among 13 other schools division in the region, bagging the championship title for three years now since 2018.
There was no EVRAA Meet in 2020 to 2022 due to coronavirus disease (COVID-19) pandemic.
"I am very proud of all our athletes. I hope their grit, sacrifice, and all the hard work they have put in. And I am endlessly thankful to everyone who has contributed to each athlete's journey towards this grand slam victory – their parents, the coaches, the teachers, and all members of the LGU. We are 3-peat champions, a feat I honor and cherish" Mayor Lucy Torres-Gomez said in a statement.
She then thanked her husband, then Ormoc City Mayor and now congressman, Richard Gomez, for laying the foundation of the sports program in the city which now reaping success not just in local sporting events but even in international competitions like the Southeast Asian Games.
Ormoc will be hosting the EVRAA 2024. Their last hosting of the sporting event was in 2019 before the pandemic.
Following Ormoc City was Leyte school division with a total medal tally of 50 gold, 74 silver, and 56 bronze while Tacloban City schools division with 19 golds, 27 silvers, and 46 bronze medals haul, landed in the 3rd place.
Both Tacloban and Leyte schools divisions were the co-host of this year's EVRAA Meet.
More than 5, 149 elementary and secondary student-athletes from 13 school divisions participated in the five-day sporting event that return three years after it was cancelled in 2020 due to the COVID-19 pandemic.
The athletes competed in 23 fields of sports, among which is wushu, taekwondo, pencat silat, sepak takraw, futsal, football, volleyball, basketball, softball, baseball, dance sport, swimming, billiards, track and field (athletics), arnis, archery, gymnastic, badminton, boxing, chess, table tennis, tennis, and wrestling.
"I want to say that you have truly impressed us all. Your determination, perseverance, and sportsmanship, have been nothing short of inspiring. You have shown us what it means to push beyond your limit and strive for excellence and for that we are grateful," DepEd-8 Regional Director Evelyn Fetalvero said during the closing program.
Aside from announcing the top winning delegations, DepEd also gave special awards to competing schools division which include the most discipline delegation bagged by Southern Leyte schools division (3rd); Samar schools division (2nd); and Calbayog City schools division (1st); most orderly billeting quarters was won by Southern Leyte (3rd), Ormoc City (2nd), Catbalogan City (1st); and best in uniform winners are Leyte Division (3rd), Eastern Samar (2nd), Tacloban City (1st).
(ROEL T. AMAZONA)