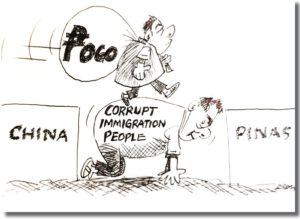 How easy it is for this administration to arrest some political opposition and critics on unproven charges. The best examples are former senator Antonio Trillanes on sedition charges alleged plans to overthrown government and Senator Leila de Lima on alleged illegal drug trade involvement that up to now is still unproven.
The Philippine Overseas Gaming Operation (POGO) which is owned by Chinese nationals have already committed crimes known to many but it continues to operate. According to Senator Joel Villanueva this gaming operation has not paid taxes to operate.
The Bureau of Immigration seems to be an active supporter of POGO operations when they help Chinese nationals enter the country and get employed in POGO business operations. They freely enter the Philippines undocumented and allegedly pay to BI operators P10,000 "service fee" in cahoots with private tour operators.
This anomaly was exposed in the Senate hearings headed by Senator Risa Honteveros. She says that according to her credible sources total collections of this well-known anomaly has reached already to over P1 Billion. She recommended to the NBI and the Ombudsman to conduct life style checks to BI suspects who get involved in this corruption.
Question: Why is POGO still operating.