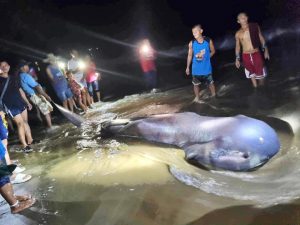 SILAGO, Southern Leyte-Residents at a coastal barangay in Silago, Southern Leyte were stunned to find a huge shark at the sea shore on Saturday (Nov.11).
The local police, in their report to the regional headquarters of the Philippine National Police, stated that one Rogelio Tayum was the first to discover the shark on their shoreline in Barangay Poblacion, district 2 at about 4:10 pm and asked his neighbors to bring the giant fish to the shore.
The police said that the shark was later found to have a huge wound in the chest like it was bitten by a bigger fish. The police said that residents suspected that the shark might be dying before going to the shore.
Silago fishery officials, who measured the shark, said that the giant fish was 4.69 meters in length, 2.09 meters in width, and approximately 1 ton in weight.
The megamouth shark is a species of deepwater shark rarely seen by humans, it measures around 17 ft long and is the smallest of the three extant filter-feeding sharks alongside the relatively larger whale shark and basking shark.
Since its discovery in 1976, fewer than 100 specimens have been observed or caught.
(ROBERT DEJON)