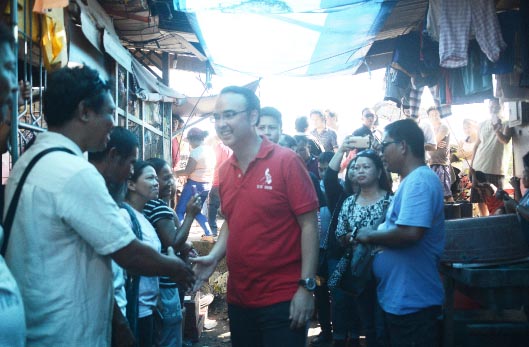 TACLOBAN CITY- Vice Presidential aspirant, Senator Alan Peter Cayetano, expressed his willingness to support survivors of supertyphoon "Yolanda" for them to return to their normal lives.
Cayetano made this commitment during his visit at the bunkhouse located in Sagkahan district which is just around 500 meters away from the office of the National Housing Authority (NHA), the government agency tasked to construct permanent shelters to families who were rendered homeless after Yolanda pummeled the city on November 8, 2013. There are around 308 families or 1,066 individuals who are still housed at the bunkhouse waiting to be relocated to their permanent shelters located in the northern part of the city. "While we cannot give you assistance as much as we want to because we are prohibited to do so, I am making a commitment to help you," Cayetano, who together with his running-mate Mayor Rody Duterte held their campaign rally in Tacloban on Monday, said.
He said that he would see to it that once the families are transferred to their permanent shelters, they should be provided with livelihood. Cayetano also said that the relocation sites should have the basic amenities like schools, market and health center to make their living more decent. During his almost an hour visit to the area, Cayetano heard the tales of several survivors living in the bunkhouses. Marites Burico, 44 who originally resided in Barangay 60-A, said that they are already "tired" living at their bunkhouses. "There is no livelihood here. There is no enough water supply and electricity is limited," the mother of nine children said. Cayetano also proposed for the residents to form a cooperative for them to easily get financial help from government agencies.
Meantime, Cayetano informed the residents on his move to lift the bank secrecy law saying it would be a "potent weapon" against those who have enriched themselves while in the government.
Cayetano said that he and his running-mate, Davao City Mayor Rody Duterte, are willing to open their respective bank accounts for scrutiny. The two have affixed their signature in a manifesto which their group has made. The manifesto shown during his audience with the 306 families or 1,066 individuals was written in a big cardboard.
""This is a potent weapon. Ito ay isang nuclear bomb kumbaga sa giyera na pwede mong ibagsak sa mga corrupt sa bansa," Cayetano said. "Maganda ito para sa bansa,|" he added. He said that bank records are strong evidence against any corrupt individual saying that even he withdrew his deposit, it could still be traced. He said that if the bank accounts of government officials are open for public scrutiny, corruption in the government could be avoided. Cayetano, quoting report of the AMLAC (Anti- Money Laundering Council), said that they were shocked that there were incidents of withdrawals of certain individuals reaching up to P50 million to P150 million a day.
Cayetano said that while he and Duterte are open for scrutiny on their bank accounts, they could not say the same to other candidates. He admitted that it is up to the other candidates to do the same. Vice President Jejomar Binay, who is running for President, is under fire for allegation of massive corruption while he was the mayor of Makati City. (Joey Gabieta)