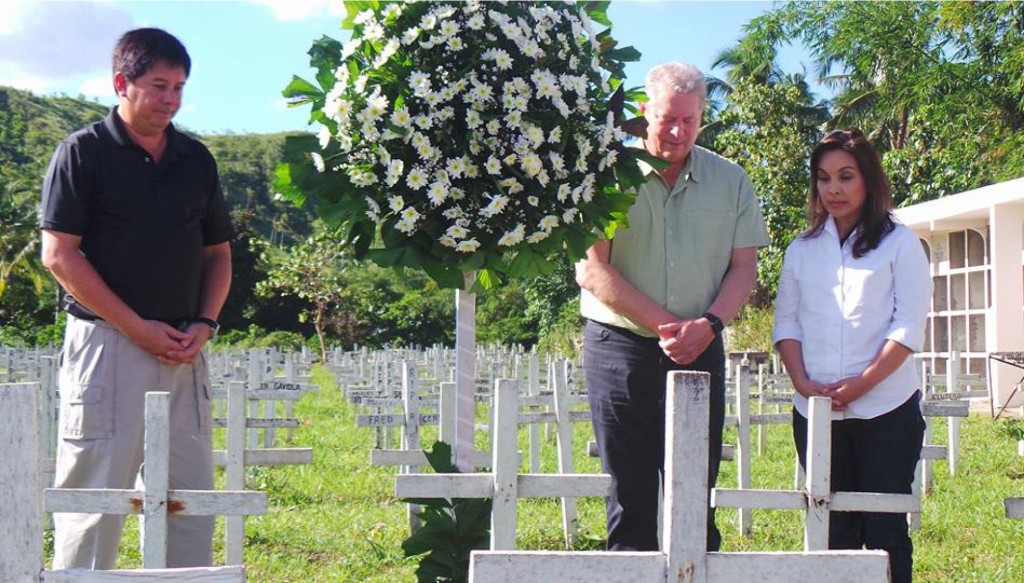 TACLOBAN CITY- Former United States Vice President Al Gore visited this city on Saturday (March 12) with city officials expressing hope that his visit will remind the world on what happened here on 2013. Gore, who is considered to be a leading environmental advocate, particularly on the fight against climate change, arrived in the city around 2:45 pm via a Philippine Airline and welcomed by city officials led by Mayor Alfred Romualdez.
From the airport, Gore, who was in the country for a talk on climate change in Manila, went to Barangay 88 in San Jose district, considered to be the worst-hit in Tacloban due to Yolanda.
The former Vice President, accompanied by Senator Loren Legarda, met with village resident Demetria Raya at her house for about 10 minutes. "We are proud and shocked at the same time that he visited us. He is a former leader of the United States. We just hope that his visit will once again remind the country and the world on the effects of Yolanda which was said due to climate change," village chair Emelita Montalban said.
From the village, Gore went to the mass grave located at Holy Cross Memorial Park in Barangay Basper. In his 20-minute visit at the mass grave where 2,200 people who died due to Yolanda were buried, the US' 45th Vice President offered a silent prayer in one of the graves. He also offered a wreath and lighted a candle together with Legarda and Romualdez. Romualdez briefed the visiting former US leader on how many were buried at the mass grave and how many of them were actually identified by their families. The government, through the National Bureau of Investigation, conducted its disaster victim's identification (DVI) in an effort to identify those who perished due to Yolanda. On his way to the City Hall, Gore's convoy stopped at the Yolanda shipwreck memorial at the Anibong district. The shipwreck, consisting of a bow of the MV Eva Jocelyn, a commercial ship that was beached inland due to the storm surge, was converted into a memorial park which is now fast-emerging as Tacloban's most visited "place of interest."
Marilou Tabao, chief of staff of Mayor Romualdez, said that they are "glad" that Gore visited Tacloban. "I guess, in his talks about climate change, he will use Tacloban as a talking point. Perhaps his visit to the Philippines will not be complete without him visiting Tacloban," Tabao said. (JOEY A. GABIETA)