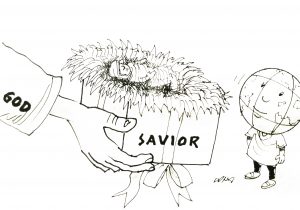 Today is the day when the so-called Christian world celebrates Christmas day. That's December 25 to be exact, celebrated to mark the believed birth of Jesus Christ, the promised Messiah of the Old Testament, the Son of God with the mission to redeem the fallen human race.
The Bible, God's revealed Word, is silent about the exact day of Christ's birth, hence the controversy surrounding that date, more so that it can be traced to a pagan god worshipped by the Romans of old. But most of Christendom have learned to accept that date, the disagreeable just joining the festivities as they cannot settle on any other day to celebrate.
The date is not the greatest issue at all, but the fact that Christ the savior was born into this world is. It's this advent of his that the sinful mankind needs the most, they being sinners without hope. The fallen humanity needed a savior who could save them from eternal damnation brought about by the consequences of their sins.
Indeed, for us to be visited by God-in-the-flesh so we can have a savior-redeemer is worth celebrating. It sure deserves our attention, praise, eternal gratitude, and most of all, our humble worship coupled with faith, believing in him, and accepting his offer of redemption that alone could ensure our salvation.
As we celebrate his birth, we should thank God for not abandoning us in our depraved and doomed condition. Praise him for the plan of redemption wherein he sent his only Son Jesus Christ to be the savior of the world. Above all, we should accept Christ into our hearts as our Lord and savior for us to avail of his gift of salvation. Merry Christmas to one and all!