Now on its 4th year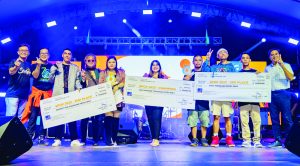 TACLOBAN CITY – The provincial government of Samar successfully held the Samar Pop (SPOP) Music Festival which showcases excellent music composing and singing talents among its local artists.
For this year, 12 singers and composers were named as finalists who showcased their own music compositions during the finals night held at the Northwest Samar State University-Main Campus Oval in Calbayog City on September 29.
Yssa Romano, with her song 'Unta' emerged as the champion. She was also named as the best interpreter.
Clark Ortiz Iand Leones, Anton Gepiga, and Chelsea Maranga were declared as second place with their song 'Langga' while Yalab Ent with their song 'Murulayan' in 3rd place.
Minor awards were received by Fordy for the song 'Payong' for the best in lyrics, Yalab Ent for the best in musical arrangement, Samareyna of Ronald Rivera, Jem Sorilo and Praise Casiano for best in music video.
'Dida ka la' of Tobi Aguilar bagged the audience choice award.
Judges of the 2023 SPOP were Jerby Santo, JJ Ang, Malou Maglinte, Jude Gitamondoc, and Aimee Grafil, councilor of Tacloban City and is a noted local singer.
Prior to the finals, a boot camp was held with 20 participants with the help of Lucien Letaba where the finalists underwent an intensive program to improve their musical skills, network, and collaborate with other aspiring artists who came from different backgrounds and genres.
From the 20 participants, the 12 finalists were selected and performed their songs in the finals in Calbayog City.
SPOP, now in its fourth year, is an annual songwriting competition organized by the provincial government of Samar which aims to open doors to local talents to showcase their passion for music and songwriting. (ROEL T. AMAZONA)