Tingog Kabataan Inc. urged bets to have programs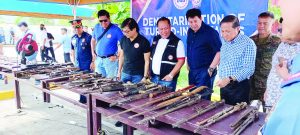 TACLOBAN CITY– As the nation heads to polls on October 30 for the barangay and Sangguniang Kabataan (SK) elections, a group has called on the voters to choose their next leaders wisely.
The Tingog Kabataan Inc. conducted a forum relative to the forthcoming village balloting with the aim of educating the voters, especially the youth.
Jan Reian Niño Saavedra, the president of the Sangguniang Kabataan (SK) Federation of Alangalang, Leyte, said that popularity alone should not be the reason why one should seek a post.
Instead, it should be based on knowing the responsibilities, and effective platforms, he stressed.
'(And) building trust with your constituents (is also very important)," he said during the gathering held at the auditorium of the Eastern Visayas State University (EVSU), this city, on Sept. 23.
"You should not attempt to launch a campaign without a clear, written strategy than you would launch construction of an office building without architectural and engineering plans," Saavedra, who is also the national president of Junior Jaycees Philippines, said.
Hundreds of candidates, mostly seeking SK seats in the forthcoming Oct.30 elections attended the gathering which was also graced by Dr. Jose Baranda; media practitioner Nestor Abrematea; Councilor Larry Menzon of Babatngon, Leyte; Max Roseño and Engr. Billy Roseño, secretary-general and president, respectively of the Tingog Kabataan Inc.
Billy Roseño, considered to be among the region's top political strategists, for his part, said campaign messaging is very crucial for candidates to win the hearts and minds of the voters.
"A campaign message is about substance, it is about real things that matter to voters. It sits on the fault lines of candidate differences and it directly relates to the political environment in which the election is being conducted," the Tingog Kabataan Inc. president, said.
Max Roseño, the group's secretary-general, also discussed during the event the proliferation of misinformation and trolling in social media.
He asked his young audience to be discerning in getting the correct and right information and not fall prey to misinformation and disinformation.
Tingog Kabataan Inc. is a non-stock, non-profit organization registered before the Securities and Exchange Commission (SEC) which promotes civic engagement and responsible leadership.
Comelec has earlier conducted its own candidates' forum wherein those in the running for the barangay and SK balloting were informed of their rights, including prohibitive acts.
JOEY A. GABIETA