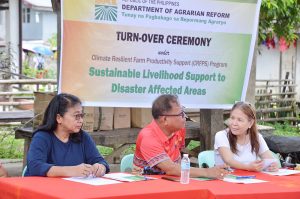 JIABONG, Samar – Mayor Julie Cereno of this town expressed gratitude to the Department of Agrarian Reform (DAR) for continuously supporting the farmers by providing them with various assistance.
Cereno, who witnessed the turnover of P465,000 worth of farm equipment, hybrid seeds and fertilizers to Malino Small Farmers Association (MSFA) last month, thanked Samar Provincial Agrarian Reform Program Officer II (PARPO II) Alfonso Catorce and other DAR officials present during the occasion for including agrarian reform beneficiaries organizations (ARBOs) from this town in the list of recipients of DAR support services.
Catorce led in the turnover of the said assistance which also included starter feeds, pellet feeds, vitamins, dewormer and cylindrical automatic pig feeders for the MSFA's hog raising livelihood project. Earlier, MSFA was provided with 6 piglets as additional livelihood to their vegetable production.
Catorce explained that DAR does not stop in the distribution of lands alone. DAR continues to help agrarian reform beneficiaries (ARBs) make the land awarded to them productive by providing them support services. This agency also encourages ARBOs to venture into livelihood activities for additional source of income, he added.
Chief of DAR Samar's Program Beneficiaries Development Division (PBDD), Thelma Alfaro, disclosed that the above-mentioned package of assistance was funded under the Climate Resilient Farm Productivity Support (CRFPS) program for Sustainable Livelihood Support to Disaster Affected Areas.
Alfaro also explained to the recipient ARBO that Catorce and MSFA president, Emma Pabua, will sign a Trust Agreement stating that DAR will monitor, within the period of six months, the farm machineries and equipment provided to them if they are being used and accordingly managed.
If the said common service facilities (CSFs) will not be used within the said period or used for other purpose in violation of the Trust Agreement, the DAR will pull them out and transfer to another interested ARBO, she added.
However, if the CSFs are used and well managed, the DAR will execute a deed of donation to MSFA, Alfaro stressed.
Provision of modern farm equipment, fertilizers and other farm implements and inputs is among the priorities of Agrarian Reform Secretary Conrado Estrella III.
Meanwhile, Pabua assured the DAR officials that their organization will treasure everything given to them so that they can still avail of other assistance from DAR in the future.
On the other hand, Municipal Agrarian Reform Program Officer (MARPO) Annaliza Gutierrez encouraged the 43-member MSFA, of which 30 of them are ARBs, to make this opportunity an inspiration to grow as an organization and inspire other ARBOs as well.
(JOSE ALSMITH L. SORIA)