TACLOBAN CITY – The provincial government of Samar through its tourism office launches a new product that highlights the products of micro-entrepreneur artisans.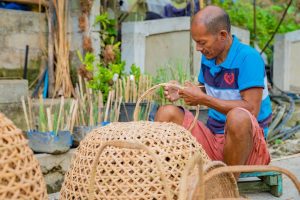 The Mercado is a sub-brand of the Lara brand providing a platform and support to creative individuals of the province who play a vital role in driving the local economy but have limited resources or opportunities to showcase their products to a wider audience.
It offers a new line yet quality affordable locally-produced home products meticulously crafted, and beautifully blended affordability without compromising the quality of brand integrity, Evan Khristine Siazon, Lara and creative industry development manager said.
"Mercado by Lara offers a diverse range of quality, culturally-inspired products, bringing affordability to excellence. The brand's commitment to empower local artisans and fostering economic growth aligns perfectly with the traditions of the province," she said.
The provincial government launched Mercado during Bahandi Trade Fair held at SM Megamall last October 11 to 15.
Among the featured products under Mercado are the mats made from 'romblon' leaves from Gandara, nito products from Tagapul-an and Hinabangan, and 'uway' or rattan products from Calbayog City.
Siazon said that since the province is abundant in different raw materials that can be used in producing various products, they will be exploring the possibility of producing products using different types of raw materials.
This will be achieved through the collaboration of local artisans and other talented individuals who will join the brand.
"We work closely with local artisans, ensuring fair compensation for their work and using eco-friendly materials whenever possible. By choosing Mercado, customers play an active role in supporting the livelihoods of Samar's talented craftsmen and women," she said.
(ROEL T. AMAZONA)