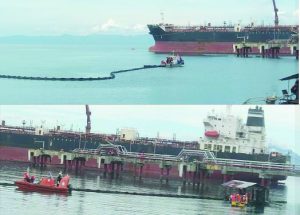 BABATNGON, Leyte– An oil spill and shipboard firefighting simulation drill was held in a private oil depot in this town on Sunday (Oct. 22).
The more than two-hour simulation drill was held at the waters of Carigara Bay and inside the property of the Vispet Development Corp., an oil depot located in Barangay Bacong.
The activity was initiated by the 1101st Auxiliary Squadron Coast Guard Auxiliary District Eastern Visayas headed by Margarita Junia, the current assistant regional director of the Department of Public Works and Highways (DPWH).
Junia said that the activity's aim was to familiarize and equip existing emergency response teams on how to activate and respond to a possible oil spill and shipboard fire incidents.
"As you all know, in every calamity, it is always the DPWH who is always in the frontline. We have a quick-response team which we want to strengthen (through different drills," she said.
Junia said that they had conducted firefighting and search and rescue drills involving their personnel including their engineers and architects.
She said that she is happy with their partnership with the Coast Guard on this particular drill.
"This will help expose our personnel if ever this kind of incident will happen. This is a good experience for us in terms of preparedness and in fact, we will continually do this," Junia said.
The National Maritime Polytechnic, headed by its executive director Victor Del Rosario, based in Barangay Cabalawan, Tacloban City provided some of its ships during the drill.
The Philippine Coast Guard Auxiliary is a civilian volunteer organization formed to assist the Coast Guard in the promotion of safety of life and property at sea, preservation of the marine environment and its resources, the conduct of maritime search and rescue, maintenance of aids to navigation, recreational safety, and such other activities that enhance maritime community relations, youth development, and other related activities.
Coast Guard commander for the region, Romeo Pulido, Jr. lauded the group of Junia for coming the activity.
He added that their office would only be happy to assist with similar training or drills.
"What our commandants are saying is that our Coast Guard Auxiliary is our secret weapon. They help us carry out some of our functions like maritime security and safety and other major functions of the Coast Guard," Pulido said.
The training, he added, was timely considering of recent oil spill incidents in the country like in Batangas and in San Ricardo, Southern Leyte.
(LIZBETH ANN A. ABELLA/JOEY A. GABIETA)