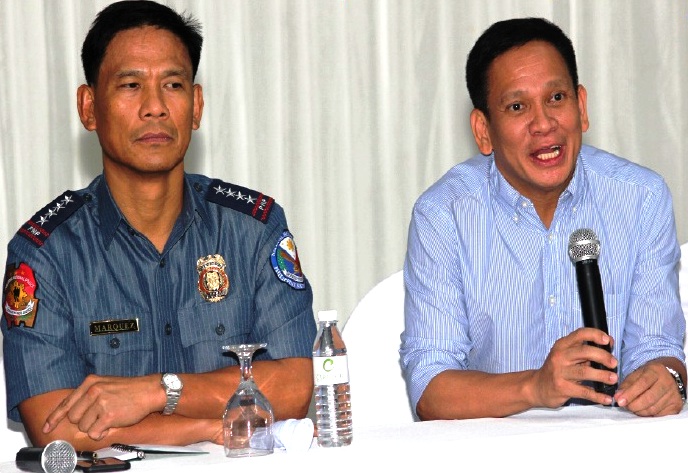 CALBAYOG CITY- The elite Special Action Force (SAF) of the Philippine National Police(PNP) will be deployed in Samar this month in time for the start of the election period on January 10, 2016, to help secure the peace and order situation of the province rocked with series of killing incidents last year. This was disclosed by Police General Director Ricardo Marquez during his visit in Calbayog City where the specially-trained policemen are to be assigned.
Marquez said that about 88 SAF members are to be deployed in the city where series of killing incidents were reported last year with politics eyed as motive. According to Marquez, the SAF as well as the CIDG (Criminal Investigation and Detection Group) personnel will serve as support unit to the existing local police force. Marquez added that there will be no conflict on the functions with other PNP forces in the area, the commander of the Regional Special Operations Task Group (RSOTG) will be the one to look into their deployment.
"The SAF and the intelligence group will serve as the support units to the local police force, the commander of the RSOTG will make their deployment," Marquez stressed.
Marquez added that essentially the priority deployment of SAF is to address election concerns, use operations against private armed groups (PAGs), among others. Samar, along with other five provinces in the country, was earlier declared by the PNP as under area of concern for the upcoming elections. But Marquez clarified that said declaration was not due to the reported killings in Calbayog, saying it was based on the situation of the province in general. He added that they asked the commanders on the ground to make an assessment on factors that have impact on elections like presence of PAGS, politically motivated incidents, election- related incidents during the past two elections, partisan political rivalries of candidates and loose firearms. "We ask our commanders on the ground to make an assessment on the factors that have impact on elections. It is not Calbayog but the entire province of Samar that is under the watch list," Marquez said.
"We are closely looking into former members of PAGS that were reported before," he added. At least 43 shooting incidents were recorded last year in Calbayog. In 2014, 48 similar incidents were reported by the Calbayog police. Marquez said that they are dedicated to solve the problem as he also urged the residents to help them in their effort of addressing the killings in the province. "We do not entertain the illusion that we can solve the problem but we are committed and dedicated to solve this problem," Marquez stressed. By JENNIFER SUMAGANG-ALLEGADO