DBSN Farms tagged to dump wastes to a watershed area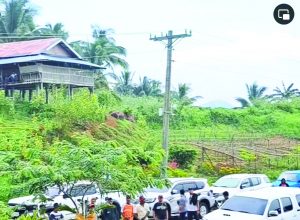 PALOMPON, Leyte–A team from the regional office of the Department of Environment and Natural Resources (DENR) failed on Friday (Sept.8) to conduct their site inspection of a breeding farm which is the subject of a complaint of alleged environmental violations.
This after the DBSN Farms Agriventures Corp. located in Barangay San Joaquin, this town, owned by Mayor Ramon Oñate was able to secure a temporary restraining order (TRO) from a court hours before the DENR was about to conduct their visit.
The TRO, issued by Judge Dexter Aguilar of the RTC-Branch 17 which is to last for 72 hours, said that conducting an excavation within the premises of the breeding farm owned by Oñate would result in a violation of his rights considering that the DENR has yet to release its report on the site inspection it conducted on July 27 and 28 of this year.
But the team from the DENR's survey and mapping division headed by Engr. Dioleta Villas said that based on the travel order issued by Regional Executive Director Lormelyn Claudio, they would not be conducting any excavation activities at the breeding farm.
"We will just conduct a mapping reading inside the breeding farm and determine if indeed the alleged dumping of these hazardous wastes was located within the reserved forest or at the watershed area," she said.
The DENR team, composed of two engineers and one survey aide, was accompanied by police personnel from the regional PNP.
However, while they were to proceed to the site, the entrance going to the breeding farm was barricaded with several parked vehicles, motorcycles, and a group of men, purportedly supporters of Mayor Oñate.
Villas said that they would just make a report to their regional director on what happened adding that she could not make any further comment on what their office would do next.
The DENR's move was due to a complaint filed earlier by Georgina Arevalo, former mayor of the town who claimed that 'solid and hazardous wastes' were dumped by the facility and buried in pits which were all located within the forest reserve and watershed areas.
Arevalo, in turn, based her complaint on the report made to her by some residents of the village who claimed that the dumping of wastes was not only causing some health concerns but also resulted in losing their source of drinking water.
John Kevin Pilapil, a media practitioner based in Ormoc City, said that the act of these men put their lives in danger.
According to him, a group of men approached the vehicle where he and some members of the media were on board and struck the vehicle's windows, purportedly for them to roll down the windows.
Mayor Oñate has denied that his farm has not dumped wastes into the watershed saying they have a treatment facility.
He insisted that the DENR could not conduct any excavation unless ordered by a court.
Oñate that the case on violation of environmental laws was dismissed by a regional trial court as early as 2019.
"They filed a motion for reconsideration and it did not succeed and turned down by the court. Now, they have filed a motion for reconsideration in the Court of Appeals (CA), so pending the resolution of the CA with the due respect it is supposed to be, they can be liable for sub judice because it is still pending," Oñate said.
The RTC will hold a summary hearing on Sept. 21 if there's a need to extend the TRO.
"What they could only do is conduct visual inspection. They can visit the farm anytime," he said.
Mayor Oñate stressed that even if the court did not issue a TRO about the requested excavation, he would not allow the excavation inside his property.
He said that they should have a court order directing for an excavation inside a private property.
LIZBETH ANN A. ABELLA/ROBERT DEJON