Aims to help fight climate change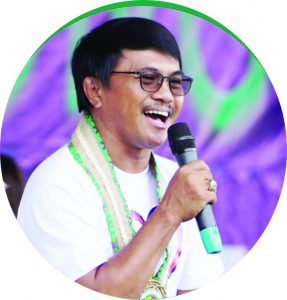 MATAG-OB, Leyte– This municipality is aiming to be the 'greenest' town of the province as it encourages its people to plant trees and help fight climate change.
As part of the campaign, the municipal government target to plant 10,000 trees every year, says Mayor Bernandino Tacoy.
Tacoy said that he has coordinated with the Department of Environment and Natural Resources (DENR), local private sectors, members of the communities, and even from the Office of the Vice President on this effort.
"We are doing this tree planting activity as our way of helping in the campaign on climate change that we are experiencing right now," he said on Saturday (Sept.9).
Since they started this campaign early this year, they have planted over 8,500 trees of various varieties like Lawaan and Narra.
These trees are being planted in their forested areas like in Barangay Malazarte and at various watershed areas like in Brgys. Bulak and Cabadbad.
It has also become a policy of his administration that for every couple that he wed, they need to plant 10 trees as he also encourages visitors of the town to also do the same.
"The feedback is very encouraging," Tacoy said.
He also makes sure that the seedlings that they have planted will grow by assigning job order workers whose main duties are to monitor these seedlings until they are nourished by watering them every day.
Failure of these job order workers to make these seedlings grow could mean possible dismissal from service, Tacoy said.
He also said that during the filing of certificates of candidacy for those running in this year's barangay and Sangguniang Kabataan elections, he also encouraged them to plant trees.
Tacoy lamented that some of their watersheds appeared to have been titled by some private individuals reason he wants to ask assistance from the DENR on how to solve this situation.
This way, they could cover these 'titled' watershed areas under their tree planting activities.
He also said that they are practicing waste segregation wherein biodegradable wastes are turned into fertilizers while the non-biodegradable wastes are buried in their landfill area.
Tacoy said that they hope to realize their target that by next year, Matag-ob will be 'waste-free' and in the process, help in the fight against climate change.
(JOEY A. GABIETA)