After SB blocked the needed funding requirement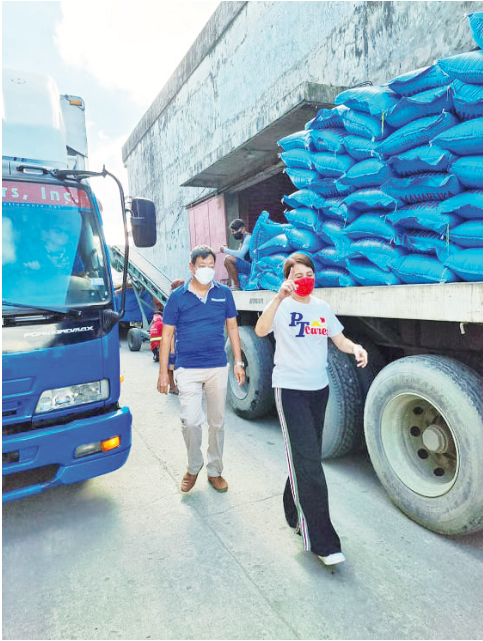 TANAUAN, Leyte- Despite last week's arbitrary and deliberate obstruction of some Sangguniang Bayan members on the proposed 10 kilos rice subsidy to the 17,500 identified recipient households from this town, the planned rice aid has finally proceeded as scheduled, this after mayoralty candidate Penny Tecson, wife of incumbent mayor Pel, shouldered a substantial amount of the lacking funding requirement.
In an interview, Tanauan Mayor Pelagio 'Pel' Tecson said his wife Penny paid the lacking amount needed in the rice purchase in the amount of P1.3 million.
Tecson said the local government unit (LGU) has only over P2 million appropriated and readily available funds which can be used for said purpose. Penny's help, he said, will compensate for the lacking funding requirement.
The act of kindness will help assure the eventual realization of the food subsistence program, and all households identified recipients will be given 5 kilos of rice each.
It may be recalled that on March 9, during the regular session of the Sangguniang Bayan, Councilors Lauro Villero, Yepyep Merilo, and Quintin Octa succeeded in blocking the discussion and approval of Municipal Development Council MDC Resolution No. 10 – series of 2022, requesting for the inclusion of the project into the Annual Investment Plan AIP for CY 2022 of the Municipality entitled "Provision of Food Subsistence or Relief Goods to All Households affected by Disasters/Calamities…"
Consequently, the unsympathetic move contrived by the said SB members has denied the resolution of floor discussion in the plenary, effectively denying it the chance of approval, resulting in the effective stalling of the fund in the amount of P4.1 million supposedly intended for the said food subsistence program.
The stalled amount was sourced out by Mayor Tecson from the Department of Budget and Management DBM guided under local budget memorandum circular 140.
It only needs a concurring and approving resolution from the Sangguniang Bayan for it to be utilized for the said purpose, but this did not materialize during the March 9 session.
The March 9 session was the last day for the LGU to facilitate and pass the urgent legislation so they could procure the rice before the election ban period.