As campaign kicks off for the May 9 polls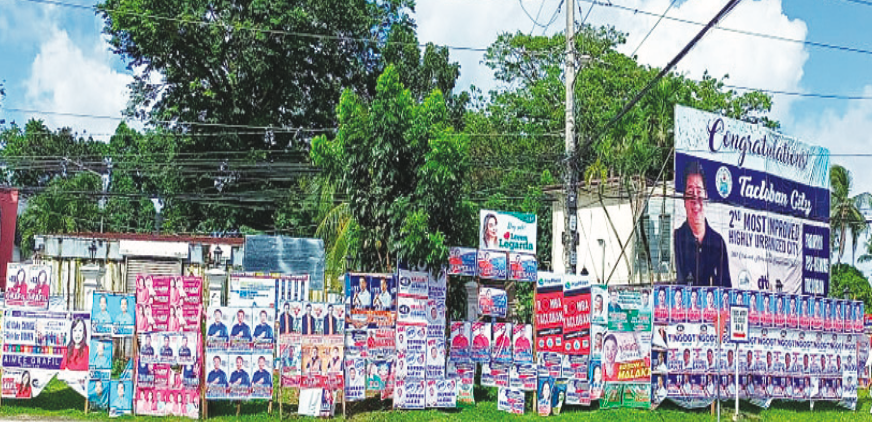 TACLOBAN CITY- About 3,342 candidates across the region are in the running for this year's elections who on Friday (March 25) started courting their respective voters.
Most of these candidates started their sorties by attending Masses seeking for a possible Divine Intervention followed either by motorcade or house-to-house campaigning.
In the city, the team of reelectionist Mayor Alfred Romualdez, his son, vice mayoralty aspirant Raymund and his entire team, attended a Mass.
They are scheduled to conduct their campaign sortie on Saturday at the northern part of the city where families whose houses were totally damaged during the onslaught of Super Typhoon 'Yolanda' are now residing.
In Ormoc City, Mayor Richard Gomez and his team also attended a Mass before they proceeded to the villages to have their campaign.
Gomez, who is seeking for a congressional post for Leyte's fourth district, earlier said that they will not hold any motorcades amid surging of fuel prices but would instead go directly to the villages to hold their political rallies.
In Samar, major candidates there also hit the campaign trail through motorcades.
Among them is gubernatorial aspirant, Rep. Sharee Ann Tan and her team together with her allies in Catbalogan City. At the nearby city of Calbayog, incumbent Mayor Diego Rivera and his team also have their motorcade.
Candidates in Biliran, Southern Leyte, Eastern Samar, and Northern Samar have also hit the campaign trail through motorcades with many of them holding proclamation rallies.
Based on the record of the regional office of the Commission on Elections, there are 3,342 candidates who are vying for local posts up for grabs for the May 9 elections.
Of this number, 40 are for congressional posts; 22 for governors; 17 for vice governors; 113 for provincial board members; 330 for city and municipal mayors; 303 for city and municipal vice mayors; and 2,5117 for city or municipal councilors.
Lawyer Noli Pipo, Comelec regional director, reminded all the candidates to always observe all the health protocols considering the threat of coronavirus disease (COVID-19) still there.
Giving out of cash, food and free transport for the public are being discouraged as the campaign period starts, he added.
"Social welfare services should also be stopped unless there is a certificate of exemption from the Comelec en banc," Pipo said.
The Philippine National Police (PNP) in the region, headed by B/Gen. Bernard Banac, said that it will be implementing intensified checkpoints in various parts of the region to maintain peace and order with the start of the local campaign period.
"PRO 8 will be implementing intensified checkpoints as part of preventive and security measures to maintain peace and order in the start of the local campaign period. This might pose inconvenience for the riding public but this will be for the welfare of everybody, thus, we need your full cooperation," it said in a statement.