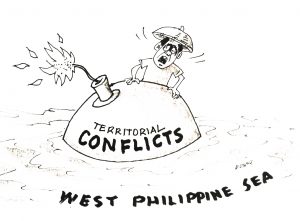 The territorial dispute in the West Philippine Sea remains high in the agenda of claimant nations, namely: China, Vietnam, the Philippines, Malaysia, Brunei and Taiwan, as they are not just competing for control over the vast maritime expanse, but they are also after trade, economy, regional stability and geopolitical significance.
In recent years, military presence has heightened in the SCS, with China undertaking a significant buildup of its armed forces in the region. China's military expansion in the SCS has caused alarm and raised tensions among Southeast Asian nations, especially the Philippines, Vietnam, and Malaysia. The contested waters are also rich in natural resources including oil, natural gas, and fish stocks, which are all sources of regional contention. Our country has actively challenged China's claim to the waters, filing an arbitration case against China in 2013, with much of the case involving disagreement over exclusive economic zone (EEZ) rights and maritime entitlement in the SCS.
The United States has also been increasing its naval presence in the region, in a move to support its allies, promote freedom of navigation, and preserve regional stability. The US presence in the contentious waters, considered international waters, has further increased tensions between China and the US, with China seeing the US presence as a threat to its sovereignty. This has led to several close encounters between China and US ships in the disputed waters.
The present situation in the South China Sea is a significant geopolitical concern, with a potential for conflict and widening impact on the global community. With the issue of territorial sovereignty and rights still unresolved, it is crucial for all relevant parties to engage in direct dialogue, pursue peaceful means, and respect international law. The outcome of the South China Sea dispute is important, not only for the claimant states but for the international community as a whole. Therefore, it is imperative that all parties act with restraint and a willingness to compromise, in order to secure a peaceful and diplomatic resolution to the conflict.