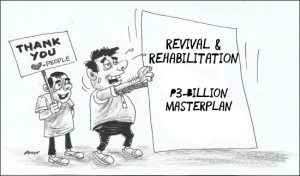 How could Tacloban City be better described than being resilient, vibrant and livable? This is Mayor Alfred Romualdez administration's vision of this once progressive and tourist-drawing city now gradually rising above the ruins created by the deadly supertyphoon Yolanda on November 8 last year. A masterplan presented to the public on March 21 gears towards this end but will entail a hefty PhP 2.5 to 3 billion to get it done over a considerable period of time.
If only Mayor Romualdez will be assured of a tenure beyond his three successive terms in office as the city's chief executive, the Proposed Tacloban Recovery and Rehabilitation Plan, which was helped get done in a short one-and-a-half-month time by the United Nations Human Settlements Program (UN-Habitat), could materialize worriless.
Knowing though how the country's political climate is as erratic as the weather system affected by the phenomenon called global warming, any plan for now may not seem to be it after the present dispensation's power has ceased. In June 2016, Romualdez will have relinquish his power in favour of his successor.
This fast changing possibilities could not easily be dismissed. Take for instance the construction of the Department of Health edifice in Brgy. Cabalawan in Tacloban City that was ordered abandoned in the midst of its construction for allegedly nestling atop of a faultline. A project of the administration of then Pres. Ferdinand Marcos, the building was touted as a white elephant. However, this time, under the administration of the Marcos nemesis Pres. Noynoy Aquino, the same compound where this abandoned edifice stands will be utilized for the new building of Eastern Visayas Regional Medical Center.
Another is the revival of the Eastern Visayas Regional Growth Center, a catchment basin type of adjacent agricultural lands which was an original concept of the Marcos administration. Following the ouster of the former strongman, EVRGC likewise was put on shelf. Now, in the recovery and rehab plan of the only highly urbanized city of Eastern Visayas, reviving the EVRGC is shaping up to be part of the economic component of the four-tier framework of the city's build back better program particular in the northern portion of the city.
Only two main factors that can hold back the success of this masterplan: sustainability and resources. The plan, which was designed to help mitigate a similar extent of devastation in the face of possible tsunami and another storm surge to occur in Tacloban, and to relocate the residents in the "no build zones" to safer residential grounds in the upland such as Barangays Sta. Elena, Sto. Nino and New Kawayan, is plausible if only all aspects in it are tenable.