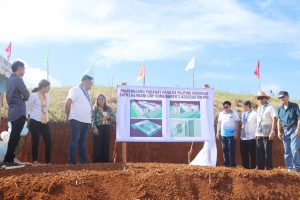 HERNANI, Eastern Samar– On October 19, 2023, the groundbreaking ceremony of the 4PH Program(Pambansang Pabahay Para sa Pilipino) took place in the picturesque mountains of sitio Canquiante of Barangay Padang, Hernani, Eastern Samar.
The 4PH Program, a flagship initiative of the Marcos Administration, aimed at providing affordable housing for Filipinos.
This momentous event was the result of a collaborative effort between the Hernani Homeowners Association, led by their president Bulaklak Candido-Manacap, and the local government unit of Hernani, under the leadership of Mayor Amado Candido.
The ceremony was graced by an array of distinguished guests and officials, including Tingog Rep.Jude Acidre, Governor Ben P. Evardone (represented by the provincial PESO Manager and Barangay Affairs Head, Bryan Arago), Llorente Mayor Daniel Boco, Balangiga Mayor Danna Flynch De Lira, CENRO Eugene Mozo (represented by Virgie Tadle), Dumduma Construction and Trading Corporation (represented by their legal consultant, Atty. Lionel Titong, and Atty. Ruben Catubay).
Not to forget, the family of the late Mayor Pedro Candido, represented by Renato Candido generously, donated the 9.5-hectare land for this project. Our local officials, functionaries, and Hernaninhons also lent their presence to this memorable occasion.
This housing program harmoniously aligns with Mayor Amado's visionary commitment to provide safe housing for all Hernaninhons, thus embodying the administration's tagline: "Padayon Pag-Uswag Hernani".(PR)