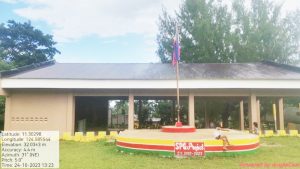 CAPOOCAN, Leyte – Teachers and pupils will now have a resilient and reliable venue for school-related activities at Pinamopoan Central School (CS) in the town of Capoocan, Leyte.
Thus said District Engineer Leo Edward Oppura of the Leyte 2nd District Engineering Office (L2DEO) of the Department of Public Works and Highways (DPWH) after the completion of a multi-purpose building constructed in the said school.
The facility has a total floor area of 240 square meters, built with structural concrete, reinforcing steel, steel trusses, and long-span roofing sheets.
According to Oppura, the department allotted P4.94 million under the Basic Infrastructure Program Multi-Purpose Buildings and Facilities to support social services, aiming to serve multiple programs and functional requirements of the school and to elevate the learners' capabilities.
This new building can be used for a variety of academic collaboration and creativity-fostering activities for students of the said school.
It can also provide a comfortable and accommodating venue for academic events for teachers and students.
For the current year, DPWH has built eleven multi-purpose buildings in the second district of Leyte, of which six are now complete while the remaining MPBs are under construction.
(LIZBETH ANN ABELLA)