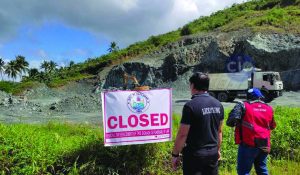 TACLOBAN CITY– A team of the Business Permit and Licensing Division (BPLD) ordered the halt of quarrying operations on a site in Barangay Basper, this city, on Thursday, February 2, 2023.
According to BPLD Chief Gemafiel R. Gaspay, the contractor of the quarrying operations on the mountainside of the said barangay doesn't have the required quarrying permit, which is why they enforced the closure order.
Perusal of the available documents indicates that a certain "Patpat" de la Peña is the contractor of the excavation and hauling activity, which the personnel in the area alleged is being used as filling materials for a local government project.
A representative of the contractor was instructed to secure the necessary permit before quarry activities could resume in the area.
(HENRY JAMES ROCA/TCIO)