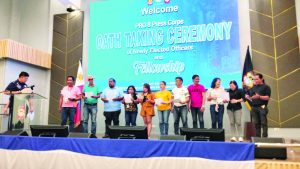 PFRMJR sees a fruitful campaign
TACLOBAN CITY– The push for federalism continues under the administration of President Ferdinand Romualdez Marcos, Jr.as a new group has been formed for such purpose.
The group, People's Federal Reform Movement for Justice and Reconciliation (PFRMJR), was launched last January 21, 2023 at the Cebu Parklane International Hotel in Cebu City with lawyer Joseph T. Entero elected as president.
Undersecretary Mark Roa Gimenez of the Presidential Management Staff (PMS), who swore in the officials of the PFRMJR, was also named as the group's national chairman.
Gimenez, a former mayor of Tanauan, Leyte, and chairman of the Tingog Party-List since 2012, accepted the post.
The group, aside from backing all the programs and initiatives of the Marcos administration, is also pushing for the conversion of the present form of government to federalism as a 'viable structure of governance to promote inclusive growth and development of the country,' Engr. Billy Roseño, the group's secretary-general and a known political organizer in Tacloban City said.
"The PFRMJR is envisioned to promote a federal system of government as the answer to the lingering problems that beset our country and its people today by consolidating and organizing a solid and strong national alliance of movements, groups, and community leaders that are advocates of federalism," he added.
He also stressed that their movement is committed to continue to support the administration of Pres. Marcos, Jr. to ensure that the country will have a developed economy.
"Our officers and members who are political leaders and campaigners in their own right and which come from different political spectrums of our society have decided to come together for one common purpose-to support and help the present administration of Pres. Marcos Jr. on his present and future programs and projects for the betterment of the lives of the Filipino people," Larry Menzon, the group's deputy secretary-general and town councilor of Babatngon, Leyte, said.
The group said that with a federal system of government, national wealth can be 'evenly distributed' and will not be controlled by so-called 'Imperial Manila' as it will also decentralize the power to the regions and 'states.'
Some lingering problems of the country like armed conflict in Mindanao and communist insurgency is also seen to be solved under the federal system, the group said.
Pushing towards federalism has been waged in the past but without success due to opposition by some groups and even officials.
Roseño and Menzon hope that this time, their campaign will prosper this time.
PFRMJR is confident that the federalism movement will succeed since we have consolidated early to conduct information disseminations and consultative assemblies in the barangays and most of the Filipinos are already fully aware of its advantages.
Aside from Roseño and Menzon, other officials elected were provincial board member of Iloilo Matt Palabrica as executive vice-president; newly appointed NAPC Lead Convenor Dr. Lope Santos III as vice president for Luzon; NAPC Deputy Director – General Dr. Girlie Amarillo, vice president for National Capital Region; Atty. Gerardo Carillo, vice president for the Visayas; Wilfredo Guerra, vice president for Mindanao; CDA Asec. Pendatun Disimban as vice president for BARMM; Ernest Evangelista, treasurer; Richard Tumulak, auditor; Nestor Abrematea, media and information officer; and Atty. Allan Legaspi, general legal counsel.
The PFRMJR National Secretariat is composed of Jeffrey Aribal, Paul Alvin Fajardo, Carolyn Iglesias and Archimedes Lungay.
JOEY A. GABIETA