PH's highest officials to attend events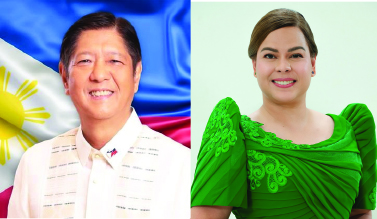 TACLOBAN CITY-Both President Ferdinand 'Bongbong' Marcos, Jr. and Vice President Sara Duterte will be coming to Leyte on Wednesday (Oct. 19) for a series of events.
The country's highest officials are to grace the switch-on ceremony of the aesthetic lighting and sound project at the San Juanico Bridge on that day.
The main program will be held on the Samar side of the iconic bridge that connects Leyte and Samar Islands.
The following day, Oct.20, the President will be the guest of honor and speaker of this year's 78th Leyte Gulf Landings anniversary to be held at the MacArthur Landing National Park in Palo, Leyte.
On that same day, the President and the Vice President will both attend the 75th Charter Day celebration of Ormoc City, also in Leyte.
The visit of Marcos to Leyte, the home province of his mother, Imelda Marcos, will be his first since he was elected as President during the May 9 elections.
Both Marcos and Duterte won overwhelmingly in Eastern Visayas during the presidential elections.
Duterte, since assuming the Vice President post, had visited Northern Samar and Southern Leyte, the home province of his father, former president Rodrigo Duterte.
The P80 million worth San Juanico aesthetic lighting and sound project was funded by the Department of Tourism through its attached agency, the Tourism Infrastructure and Enterprise Zone Authority (TIEZA).
The said project at the iconic bridge, which was constructed during the administration of the President's father, was an initiative of the Samar provincial government.
Samar Governor Sharee Ann Tan said that with the bridge having 'colorful lights and sounds' it could attract tourists even during the night.
The San Juanico Bridge aesthetic lighting project is said to be the first of its kind in the country with its light show and colors can be customized, depending on the occasion.
Just last month, the bridge shone on purple color to honor the late Queen Elizabeth of the United Kingdom. Purple is associated to royalties.
Meantime, in this year's Leyte Gulf Landings anniversary, the President is expected to arrive during the program proper at 8 am.
Several foreign dignitaries are also to attend.
Among them are Ambassadors Mary Kay Carlson of the United States; Laure Beaufils of the United Kingdom with the Japanese Embassy to be represented by defense attaché Col. Akiba Kazuiko.
Leyte Governor Carlos Jericho Petilla will head the local officials during the historic event wherein it will honor 33 living Filipino World War II veterans.
This year's program will be the first in almost three years where it will be celebration in-person. For the past two years the celebration, some of the programs were done virtually.
JOEY A. GABIETA/ROEL T. AMAZONA