NSSDEO, Brgy. Burabud, Laoang, N. Samar– The Department of Public Works and Highways – Northern Samar 2nd District Engineering Office spearheaded by the OIC-District Engineer Charlito S. Carlobos, instructed Engr. Fiona A. Anunciado, OIC-Chief, Planning and Design Section assisted by Engr. Marc Christian L. Adora and Ronnel Bernard B. Suedad to survey the Batag Island Lighthouse located at Brgy. Marubay, Laoang, Northern Samar, last August 30, 2023.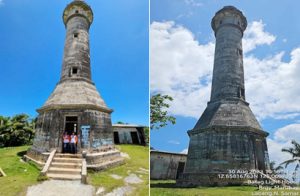 The DPWH – Planning and Design Section personnel submitted their evaluation and recommendation to look for a new location for the construction of a new lighthouse considering that the integrity and condition of the structure of the said lighthouse is dangerous since it was constructed in the early American Colonial period in 1907, Acting Chief, Anunciado said.
Furthermore, the lighthouse is an important cultural property under Republic Act No. 10066 known as the historic "Century Old Batag Island Lighthouse".
Most lighthouses comprise a narrow tower, with a rotating or flashing light at the peak, located near the coast. The invention of the lighthouse paved the way to avoid dangerous areas, in following certain routes.
In addition, these aid in maritime coastal navigation. The structure provides lights to guiding mariners and fishermen at the entrance to ports and harbors that provide safety to the Maritime Community, as OIC-Chief, Anunciado added.
The Faro De Isla Batag or commonly called the Batag Lighthouse has a cylindrical tower with double balcony and lantern with a height of 30.8 metres (101 ft.). This lighthouse is the third major lighthouse fully designed and built by the Americans.
By this initiative, it continuously helps the seafarers especially the fishermen for many years and it became one of the tourist attractions that made Laoang, Northern Samar is known for. On the other hand, DPWH-NSSDEO realized the significance of Batag Lighthouse and its new location for the safety and firmness of the structure.
(MA. LUISA G. ADORA, PLANNING AND DESIFN SECTION-PIO STAFF/PR)