The project will connect 2 N.Samar towns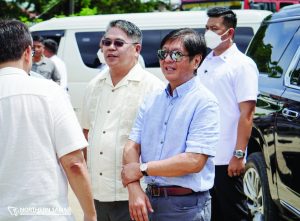 TACLOBAN CITY-President Ferdinand 'Bongbong' Marcos, Jr. has issued a green light for the construction of phase two of the Samar Pacific Coastal Road Project (SPCRP) on Wednesday (July 19).
The construction of the SPCRP phase two will involve the construction of a road and two bridges covering 15 kilometers connecting the towns of Palapag and Laoang with the South Korean government to bankroll it.
On July 14, the President led the opening of the SPCRP I connecting the towns of Palapag, Catubig, and Laoang. The 11.6 kms road and bridge project was financed by South Korea's Export-Import Bank at a cost of P1.03 billion.
Under the second phase of the SPCRP, the project will include an 800-meter bridge, named Laoang Bridge 2, connecting Barangay Talisay to Poblacion Laoang, as well as a 605-meter bridge known as Laoang Bridge 3, connecting Brgy. Calomotan to Brgy. Pangpang, Palapag.
Governor Edwin Ongchuan, in a statement issued on Wednesday (July 19), said that he is grateful to the President for giving his approval on the second phase of the SPCPR.
"We express our gratitude to President Marcos for staying true to his commitment during his visit to the province on July 14, 2023. He assured us that he would approve the project, and we are pleased to announce that it has now received the ultimate endorsement from the NEDA Board," he said.
The governor said that the project could help improve the lives of the peoples of Laoang and Palapag as goods and services could be delivered at a fast pace.
The second phase implementation of the SPCPR was among the project proposals announced by Sec. Arsenio Balisan of the National Economic Development Authority to be implemented by the Marcos administration.
Public Works and Highways Sec. Manuel Bonoan, during the July 14 interview, said that the second phase of the SPCPR is one of the priority projects of the Marcos administration under its 'Build Better More' program and will be completed within the term.
According to him, they are now discussing with South Korean Ambassador Lee Sang-hwa on the said project, including the cost of the project.
"We will finalize everything within the year but we will do the technical design and probably by next year, we will start the civil works," Bonoan said.
JOEY A. GABIETA