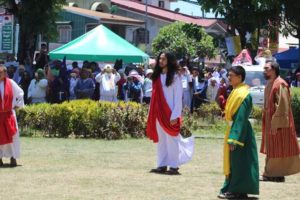 TACLOBAN CITY- For the very first time, one of the country's oldest presentation on the passion and death of Jesus Christ held at the nearby town of Palo, Leyte province would not be staged.
The annual Lenten presentation, held at the grounds of the Palo Cathedral every morning of Good Friday, was cancelled due to the pandemic cause by the coronavirus disease 2019(COVID-19).
Mabel Moron-Sevilla, stage director of the annual event which is supposed to mark its 46th staging this year, said that with a heavy heart, the event has to be cancelled in deference to the policy of the government to avoid big gathering amidst the threat of COVID-19.
The Lenten presentation, known in Waray dialect as 'Pamalandong', is considered to be Eastern Visayas' most known live reenactment on the passion and death of Jesus Christ which attracts tens of thousands of crowds.
"I just felt sad that we will be missing this annual Lenten sacrifice this year. This has already become a tradition in the parish for 45 years but there is a very strong reason to cancel it," Moron-Sevilla said.
"The Church made the announcement on the cancellation of all Lenten activities that would call for Churchgoers to converge because of this pandemic," she added.
The annual event, which starts around 11 am and ends at 3 pm, the time Jesus Christ was believed to have died at the Cross, is participated around 300 individuals from Palo town.
Based on the record of the Palo municipal government, there are about three patients under investigation (PUIs) and 492 persons under monitoring (PUMs). (JOEY A. GABIETA)