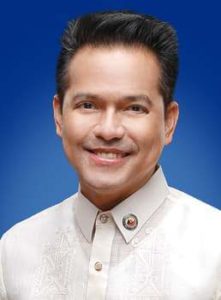 TACLOBAN CITY-Samar Rep. Edgar Mary Sarmiento said that he is now in self-quarantine admitting that he had "close contact" with individuals who were later found to be positive of COVID-19.
He, however, said that despite of his self-quarantine, he continues to work for the benefits of his constituents in Samar's first congressional district.
Sarmiento made this disclosure in a message he posted on his Facebook account on Wednesday (March 25).
"Some of you might be wondering of my whereabouts, reason why I have to come up with my official statement. I am in self-quarantine and have to make sure that I will not infect my beloved constituents and family because I was in close contact with individuals who have been tested positive of COVID-19.I cannot disclose any other information about this to ensure their privacy," he said.
Earlier ACT-CIS Rep.Eric Yap admitted to be positive of the coronavirus disease 2019.
Sarmiento said that while he feels week, he did not take any diagnostic test provided by the Research Institute of Tropical Medicine (RITM), alluding to reports that some of the country' officials used their position to have their samples taken to the disadvantage of those who are mostly needed.
"I have not taken the diagnostic test for COVID-19. Although I feel weak, but asymptomatic as of the moment. I do not fit the Department of Health's criteria for testing since we have limited resources rather I have to give way to symptomatic cases and in dire need of the test. The proper and responsible action to take is to practice self-quarantine for at least 14 days to ensure that I have not been infected. I am doing it for 21 days, the 7 additional days would be an allowance to guarantee that I am indeed virus-free," he said.
Sarmiento, who is the chairman of the committee on transportations, attended a special session conducted by the House of Representatives which granted Pres.Rodrigo Duterte special powers to address the COVID-19 menace in the country.
Still, he said, he continues to work with officials of the district like the mayors to address the COVID-19 problem in the congressional district like proper information dissemination and in the distribution of food packs to the villagers.
"I, together with the Office of Majority Leader Rep. Ferdinand Martin Romualdez and Tingog Partylist Rep. Yedda Romualdez, lobbied for the establishment of a Regional COVID-19 testing laboratory in Tacloban City. Once all the testing requirements are in place, there can be more COVID-19 tests that can be done in our region without the need to send samples to RITM in Manila," he said.
The Eastern Visayas Regional Medical Center is being considered as the testing center for Eastern Visayas.
"For those of us who can, let us continue to heed our government's advice: stay at home. With this pandemic that is haunting our country and the rest of the world, let us continuously pray that finally the virus will be eradicated. In time, we will recover from this pandemic," Sarmiento said. (JOEY A. GABIETA)