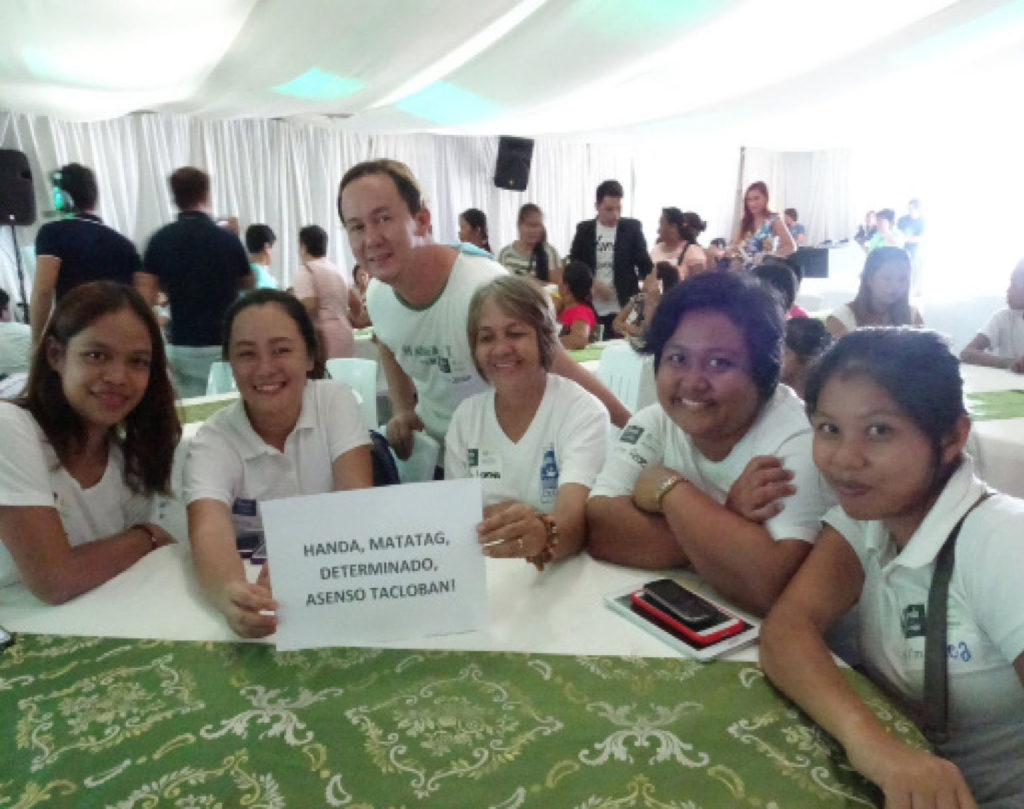 TACLOBAN CITY- Close to three years after supertyphoon 'Yolanda' pummeled this city, thousands of its people remain out of jobs and with no steady income of their own.
But thanks to Oxfam, an international aid organization, together with its partners Smart Communications and others partnered with other non-government organizations at the forefront of relief, they could earn an income even they will just stay at their respective homes.
On September 11, 2016, Oxfam, Smart and PayMaya Philippines banded together in collaboration with the Tacloban City government launched the financial inclusion program at the Leyte Park Hotel to benefit 16,000 internally displaced persons (IDPs).
At the launching, Justin Morgan, country director of Oxfam said that they believe that equitable access to financial services is crucial for them to rebuild their lives and livelihoods.
"We are happy that Smart and PayMaya are working with us to help the LGU of Tacloban rebuild the local economy by improving financial literacy and inclusion. We have good partners in this collaboration for Tacloban to recover faster," Morgan said.
In the Philippines, Oxfam works with poor people to sustain their livelihoods and reduce their risks to natural and human-made disasters and climate-change impacts.
Charmaine Esguerra, 24, a resident of Barangay Paseo de Legaspi, this city who was with her four-month old baby girl during the launching, said she was excited when she heard about the program in her village as this will help augment the income in the family.
"I want to avail of the sari-sari starter package incentive and resell the products. My baby is only four months old and this package is convenient for me since I don't need to go out to sell the items," Esguerra, whose husband is a construction worker, said.
For Alex Hembra, 65 years old and a resident of Calanipawan district, shared that the opportunity offered by Oxfam and Smart will be a good way to augment the meager income he earns as a pedicab driver.
"I am too old to drive a pedicab. My dream is to have a mobile sari-sari store and I know this will come true with this program," Hembra, who lives with his 73 year-old brother, also a pedicab driver, said.
The humanitarian project promotes entrepreneurship and the value of savings in communities.
Under the project, qualified beneficiaries will receive Smart Money prepaid cards that can be linked to their mobile phones – a mobile money product of PayMaya Philippines where they are encouraged to place any amount (P1 and above) through any Smart Padala Center in Tacloban.
As they put their money, they will receive real-time notifications such as available balance via SMS (short message service).
Rewards and incentives are in-store for the beneficiaries. Once they reached a certain amount in their savings, they can opt to have a Smart retailer package consisting of a Smart retailer SIM and credits that they can use to start a mobile load business.
Another choice is a sari-sari store starter set with Unilever products that they can resell as another source of income.
The estimated 16,000 beneficiaries from 45 coastal villages in the city are encouraged to save every day to build the culture of savings.
City Administrator Irene Chiu, representing Tacloban City Mayor Cristina Gonzales Romualdez at the launching, thanked the partners in helping the city become resilient.
"It has been three years but Oxfam and Smart Communications are still helping the people of Tacloban and make our city better. This project is very helpful as not all have access to traditional financial banking system and it makes it easier for people to save through Smart and PayMaya," Chiu shared.
The Financial Inclusion for Tacloban Resettlement Integrated Program (TRIP) also offers accident insurance.
For families composed of six or more members, the family is entitled to two beneficiaries who are 18 and above and belong to vulnerable group — senior citizens, persons with disabilities (PWDs), conditional cash transfer beneficiaries, single parents, child-headed families and pregnant or nursing mothers.
City Vice Mayor Jerry "Sambo" Yaokasin, who graced the event, said that that he and the people of the city are grateful for this financial literacy and entrepreneurship program.
Yaokasin said that this program uses technology to fight poverty, fight injustice, uplift and empower our people. This is the kind of program that ensures that nobody is left behind.
Benjie Fernandez, co-chief operating officer of PayMaya Philippines, shared that this program revolves around the slogan of the launching "Handa, Matatag, Determinado, Asenso Tacloban!
He said that technology was made available for the resilient people of Tacloban. The program provides education through series of financial literacy caravans in communities, incentives and start-up businesses.
"PayMaya Philippines is committed to creating a long-lasting impact on the development of communities through our financially inclusive innovations including Smart Money, which provides SIM-based mobile money services," Fernandez said.
(VICKY C. ARNAIZ)