CAMP RUPERTO KANGLEON, PALO, Leyte– The new set of Police Regional Office 8 (PRO-8) Press Corps officers took their oath of office before police regional director Brigadier General Rommel Francisco Marbil on Saturday (Feb.4).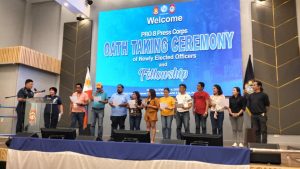 The newly-elected officials are Ioannes Paulos Omang, DyVL Aksyon Radyo (president); Rommel Rutor, DyMS Aksyon Radyo-Catbalogan City (vice president, internal affairs); Jade Nombrado, DyDM-Maasin City (vice president, external affairs); Consuelo "Sol" Alarcon, Philippine Information Office 8 (secretary); Justine Traya, RMN News Tacloban City (treasurer); and Evelyn Baccol, ATV-24 (auditor).
Also elected were Jimmy Angayangay, DyVL Aksyon Radyo (representative, Leyte); Rene Castino, DyMS Aksyon Radyo-Catbalogan (representative, Samar); Elvie Roa, Philippine News Agency (representative, Ormoc City); Roel Amazona, CNN Philippines/PNA/Leyte Samar Daily Express (representative, Tacloban); and Dahlia Orit, Radyo Pilipinas-Sogod (representative, Southern Leyte).
"We are very thankful to the PRO 8 Press Corps for your continued support in the programs and projects of the Philippine National Police in Eastern Visayas. Thank you for the trust and goodwill," Marbil said during the induction program at the Matapat Hall of the police regional command here.
Marbil also lauded the leadership and initiative of police regional spokesperson Lieutenant Colonel Bella Rentuaya, the Regional Public Information Office (RPIO) staff, and former PRO 8 Press Corps president Amazona "for bridging the police to the communities."
(RONALD O. REYES)