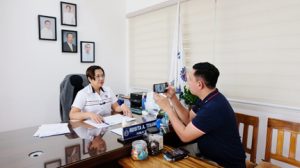 Ormoc City – Department of Public Works and Highways (DPWH) Leyte 4th District Engineering Office (DEO) Officer-In-Charge District Engineer (OIC-DE) Rosita A. Tinawin gave an interview with local media representative John Kevin D. Pilapil of Krusada and DYRG 101.5 FM 'Blue Radio' centered on the ongoing rehabilitation of the Punta-Linao-Naungan Road, a component of the Construction of By-Pass and Diversion Roads (Naungan-Linao-Alegria-Poblacion) in Ormoc City.
OIC-DE Tinawin reported that the 2.75-kilometer road project, which commenced in April of this year, has an accomplishment rate of 53.04% as of October 3, 2023, putting it ahead of the planned schedule. It encompasses a wide range of scope of works including construction of road, lined canals, riprap, cross drainage and catch basin. The target completion date is February 2024, but efforts are underway to finish critical areas ahead of schedule.
When asked about the challenges experienced with the project, OIC-DE Tinawin stated that inclement weather conditions in recent days have posed a significant challenge to the progress. Additionally, she acknowledged an issue with warning signs placed which are occasionally lost or damaged. She encouraged the public to notify the DEO every time such issues arise for their prompt replacement.
Regarding the concerns that holes are being drilled into the road and left unattended, she assured that the current 400-meter reblocking activity in the area is being fast-tracked.
Responding to suggestions to exclusively do nighttime works to avoid rush-hour traffic, she explained that it can be hindered by frequent rain at night, making double shifts (morning and night works) a more viable option to expedite construction.
OIC-DE Tinawin also urged the public to cooperate with the traffic personnel and flagmen to ensure a smoother flow of traffic in the construction area. "We apologize for the inconvenience. We need your cooperation and patience, and we promise to monitor the activity of the contractor so we can deliver the project ahead of time and in the best that we can," she said in a message to the residents and road users.
By holding media interviews, the DEO is dedicated to upholding transparency in its operations and ensuring the public is well-informed about the ongoing rehabilitation of the Punta-Linao-Naungan Road and other vital infrastructure projects in the district. (PR)