TACLOBAN CITY– The Department of Public Works and Highways (DPWH)-Leyte 2nd District Engineering Office has recently completed the first phase of the multi-purpose building in Barangay Mag-aso, La Paz town.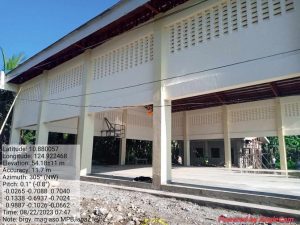 According to District Engineer Leo Edward Oppura, the new infrastructure facility aims to provide the local community with a reliable space to accommodate a range of activities and sports for the local 683 residents.
The project is funded under the General Appropriation Act (GAA) CY 2023 with a total contract amount of P6.9 million which includes embankment, concrete works, reinforcing steel, trusses, and roofing undertaken by IVS Builders and is under its basic infrastructure program multi-purpose buildings and facilities to support social services.
A multi-purpose facility is beneficial because it has the ability to connect people to their community, it can facilitate a multitude of programs and events, thus boosting relationships and friendships among the people in the locality.
(LIZBETH ANN A. ABELLA)