TACLOBAN CITY -Local government units should not be complacent in their disaster preparedness efforts and must always be on alert and always ready to respond.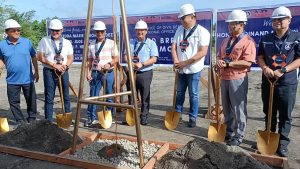 Thus said Office of Civil Defense (OCD) Administrator Usec. Ariel Bonifacio who was in the city Saturday (March 4) for the grounding breaking of the proposed regional office of the OCD at the Government Center, Palo, Leyte and for the first responders training held here in the city.
Bonifacio made the call as he cited the 7.8 magnitude quake that hit Turkiye and Syria last Feb.6 that killed more than 46,700 people in both countries.
He said many of their regional offices lack facilities like warehouses and facilities for pre-positioned goods.
"We have warehouses, offices, and pre-positioned facilities. However, these are not integrated. Importante integrated in managing calamities. The command and control is important so that we can effectively manage the on-going disaster," Bonifacio stressed.
The new OCD regional office in Palo town is expected to be finished in two years with a budget of almost P300 million.
Currently, OCD is renting a building for their office in Tacloban City.
The groundbreaking was also graced by Presidential Management Staff for the Visayas, Undersecretary Mark Gimenez, and OCD Regional Director Lord Byron Torrecarion.
Rep. Jude Acidre of the Tingog party-list group, who also graced the groundbreaking ceremony, pledged their support for the immediate release of funding and completion of the building.
"OCD has proven itself as a strong partner, a dependable partner in terms of calamity. It is only proper that we deliver the best support that we could afford in any way possible to give to the regional office," he said.
In his visit to Tacloban City, Bonifacio witnessed the training and simulation of first-man responders training on collapse building search and rescue.
The training was participated by 64 volunteers from Tacloban City and towns of Palo, Sta. Fe, Tolosa, and San Miguel, all in Leyte province.
Usec. Bonifacio lauded the initiative of OCD and the regional office of the Bureau of Fire Protection to train and involve more volunteer groups that could help, to make them ready for deployment in search and rescue operation after calamities and disaster.
Collapse structure search and rescue is now an important training that needs to be provided to search and rescue personnel, a lesson learned from 7.8 magnitude earthquake that happened last month in Turkiye and Syria that claimed thousands of lives, according to the official.
He said that this kind of training should be cascaded to all local government units in the country with the help of the Bureau of Fire Protection.
"The challenge now is how you will replicate this training to every LGU in the region. We have to expand the number of people who can do the same," Bonifacio said.
(ROEL T. AMAZONA)