NSSDEO, Brgy. Burabud, Laoang, Northern Samar-A lone personnel from the SOCOTEC Certification International conducted a third-party ISO audit on the Northern Samar Second District Engineering Office (NSSDEO) last February 23-24, 2023.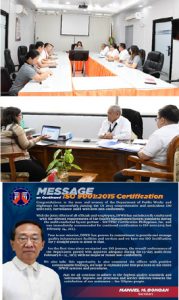 The auditor that conducted the DPWH-NSSDEO ISO 9001:2015 recertification appraisal was Ms. Olive Eco, the same SOCOTEC official that audited some construction firms in Northern Samar seeking ISO certification.
The measures of the audit were Department Order No. 100, s. 2022, Risk and Opportunity Management, D.O. No. 32, QMS Standard, Procedure and Process, D.O. No. 52 s. 2017, Workplace Quality Standard, Clauses & sub-clauses ISO 9001:2015, Issuances and other pertinent Rules and Regulations.
The actual audit started with the Construction Section under Engr. Gil Herrera, Jr., followed by the Maintenance Section headed by Engr. Francisco Y. Taňala. On the following day, Ms. Eco separately audited the Quality Assurance Section headed by Engr. Eduardo Lagrimas and Procurement Unit under Engr. Joseph Romance.
During the wrap-up meeting, Ms. Eco listed 3 positive findings, 4 OFIs or Opportunity for Improvement and 1 observation. Positive findings include quick time response, positive slippages of infrastructure projects and 100% scorecard rating of the Maintenance Section for four (4) consecutive years or "outstanding" in D.O. 41 s. 2020 implementation.
Overall, the two-day activity ended up smoothly. During the exit conference, the auditor expressed gratitude and appreciation shown her by management and the employees of the NSSDEO during the entirety of the audit process.
(LYCA MAE T.QUILICOL, PIO Alternate)