NSSDEO, Brgy. Burabud, Laoang, N. Samar– Personnel from the DPWH-Central Office conducted IAS audit of systems and procedures on the Northern Samar Second District Engineering Office (NSSDEO) last September 26-29, 2023.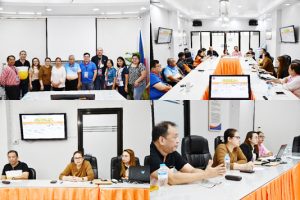 The auditors who conducted the NSSDEO ISO appraisal were Ms. Melinda Tan, OIC, Operations Audit Division, Internal Audit Service (IAS), Ms. Bernalita Seňorin, Internal Auditor III, Mr. Anthony Marte, IA-II, and Ms. Joane Quinto, IA-I.
The emphases of the audit were the following: (1) Procurement of goods, including procurement planning, invitation to bid, etc.; (2) Contract Implementation (Delivery and Inspection & Acceptance); (3) Supply & Property Management (Inventory Management and Disposal Management); (4) Maintenance of Vehicle & Heavy Equipment (Land-based Equipment Management and Repair & Maintenance of Equipment Fleet); and (5) Human Resource Management (Leave Administration and Recruitment, Selection & Placement).
During the wrap-up meeting, the IAS team commended the NSSDEO for the adequate internal control in the major processes and sub-processes.
Overall, the activity ended up smoothly. During the exit conference, the auditors expressed gratitude and appreciation to the management and the employees of the NSSDEO during the entirety of the audit process.(LYCA MAE T. QUILICOL, PIO ALTERNATE)