TACLOBAN CITY – The provincial government of Northern Samar recognized the best adaptive and innovative youth programs under the Kadasig Awards.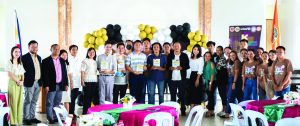 Among the awardees for the 2022 Kadasig Award, held on December 29, were "Usaping Bukas, Para Bukas" of the Pag-asa Youth Association of the Philippines (PYAP) Laoang for the health and well-being category; "Maleta ng Karunungan" of Barangay Libas, Sangguniang Kabataan, Lavezares for education category; and "Kabulig.Kom" of Brgy Coronocog, San Roque for sports, culture, and arts category.
Also given recognition was the "Gulayan sa Paaralan at Manok ng Kabataan para sa Bayan for 4H Club Allen, for agriculture and livelihood and entrepreneurship category.
Kadasig award is a program of the provincial government under the leadership of Governor Edwin Ongchuan through the Provincial Youth Development Office recognizing the project of youth organizations that showcases initiatives promoting positive youth development.
It also serves as a platform for young people of the province to showcase their achievements and learn from the success of others.
It also serves as a venue for the youth organizations to share their best practices and inspire others to realize their full potential as responsible and productive citizens.
Kadasig award was introduced by the provincial government in 2020 through Executive Order No. 01-11-20 to recognize of the vital role of the youth in nation-building and community development, and in achieving the development goals of the provincial government.
(ROEL T. AMAZONA)