TACLOBAN CITY — Over 560 new soldiers were deployed to different Army units across the region on Wednesday (March 8) in another move to help end Eastern Visayas' problem on insurgency.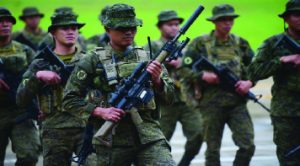 The 564 soldiers, 27 of who were women, had just completed their basic military training last February 20 and were immediately deployed to the various units of the 8th Infantry Division.
Major General Camilo Ligayo, the 8th ID commanding general, led the send-off ceremony as he expressed confidence in the new privates' ability to succeed in fighting the New People's Army, the armed wing of the Communist Party of the Philippines.
"After hurdling the rigorous training, it is with great expectations that you are physically, emotionally, and psychologically prepared to face the multifarious challenges ahead," Ligayo told the newly-minted soldiers.
Aside from addressing the insurgency problem, the new soldiers will also be ready to conduct any humanitarian efforts, especially during a disaster situation, Ligayo added.
The 8th ID is targeting to end the insurgency problem of the region within three to six months of this year.
Earlier, elite members of the Scout Rangers and soldiers from the 42nd Infantry Brigade and 74th IB were also deployed particularly to Northern Samar where four of the five remaining guerilla fronts are operating.
(ROEL T. AMAZONA)