GOVERNMENT CENTER, PALO, Leyte– The Department of Health reported that there region has 331 cases of hand, foot, and mouth (HFM) cases since the start of the year.
This was disclosed by the health agency's regional information officer, Jelyn Malibago, adding that most of the affected had ages ranging from zero to 17 years old.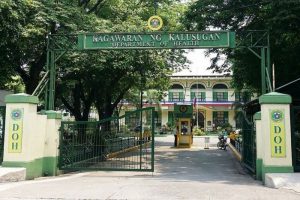 Malibago clarified that HFMD is a virus and is not deadly but is highly contagious.
"It can be cured with or without treatment. However, it depends on the variant of the virus if the affected person will not manage, it will result in polio, paralysis, meningitis, and other possible complications," she said.
Malibago said that 50 percent of the cases originated from the community while other sources were from homes and daycares.
Among the symptoms of HFM include fever, sore throat, and rashes.
DOH also provides public advisory to always practice preventive measures like proper hygiene, wearing facemasks, and washing of hands with soap. Isolation is advised to the infected people.
Wearing personal protective equipment is advised for every healthcare worker. Parents and guardians are advised not to take their children off to school when they have symptoms. (ELLA MAE M. RITA, LNU Student Intern)