Violence become the new normal in the Philippines this late. One Senator calls our reality an 'open season for killings' and that is actually alarming.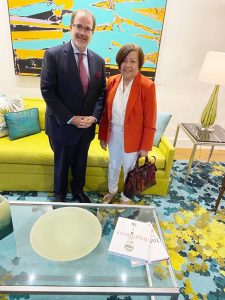 The weekly news of ambushes and assassinations had become something of a boring topic that even with Filipinos' penchant for controversial topics had become something that is unanimously alarming.
However, there are silver linings that even without the controversial label are worthy of a second gaze and even a closer look. And good news such as this must be given platform
The Rotary World Help may be a lesser known organization but its social impact to developing countries like the Philippines is huge.
Social Impact as described by University of Pennsylvania as : A focus first on achieving social impact – i.e., a meaningful improvement in the lives of others . The Rotary World Help is practicing Collaborative Philantrophy ;Collaborative philanthropy, also known as impact philanthropy, is defined as investors and nonprofits working together towards a social cause. Rotary World Help's history is in a nutshell about the results it achieves Rotary started with the vision of one man — Paul Harris. The Chicago attorney formed the Rotary Club of Chicago on 23 February 1905, so professionals with diverse backgrounds could exchange ideas and form meaningful, lifelong friendships.
In Canada in 1993, the late Ted Segodnia together with fellow Vancouver club Rotarians, Bill Richwa and Ralph Towsley, organized the first shipment of medical supplies and equipment to Kiev. Bill, Ted and their wives went to Kiev to oversee the distribution of the supplies.
At the center of this effort in the Rotary World Help for the aid distribution in the Philippines is Ms. Elena Cordero Agala, a transplant to Vancouver Canada by way of Oras Eastern Samar.
With millions of dollars worth of aid to the marginalized communities in Eastern Visayas and other parts of the country to date, she agreed to have a second interview with this writer.
Rotary World Help as represented by Elena C. Agala was able to give container vans with books, medical supllies(medial beds, beddings tables,) computers, canned goods, childrens' toys, and even a fire truck to some recipients mostly in Eastern Visayas.
Recent distribution includes the Palarao Elementary School in Leyte, Leyte;and the Bonifacio Bulante Elementary School in Tacloban City.
The Rotary World Help also organized International Dental Mission where they brought in Canadian dentists treat hundreds of Filipinos.
In all the organization was able to do this with the help of its club members in Canada and at the center of the efforts is Elena Cordero Agala , its board member and the spearhead of the efforts in the Philippines.
From 2002, the Rotary World Help was able to ship 430 container vans with an estimated USD 150 Million worth of goods to 61 countries including Ukraine and the Philippines.
Thus, in spite of the violent world and seemingly selfishness of the many, they, the Rotary World Help, had shown a whole new approach of giving. That of pooling their own resources, raising funds on their own and spending them to purchase goods to be given to people they don't know and obviously incapable of repaying that kindness.
Elena Agala's recent visit was in August 2022 and doing the giving for a month, using her own funds and bringing in the Rotary World Help Container Vans, she came back again this February with more goods to give, more time to spend and more smiles to get.
"We should never get tired of sharing whatever we can so people would also be motivated to do the same," she said.
CLEMELLE MONTALLANA