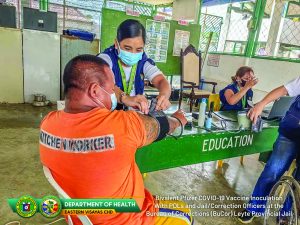 Seen to end region's 'romance' with poverty
TACLOBAN CITY– The National Economic Development Authority (NEDA) in Eastern Visayas unveiled on Wednesday (August 16) its six-year regional development plan with big-ticket projects identified.
These multi-billion projects are expected to uplift the economic condition of the region, home to more than 4 million people with a regional poverty incidence of 28.9 percent as of 2021.
Based on the 2023-2028 Eastern Visayas Regional Development Plan, several big-ticket projects have been identified which are seen to boost the economy of the region and in the process, benefit its poor people, in particular.
"Call it ambitious but we need to be ambitious for us to strive more and achieve the goal. We should not be contented with what we have and we should end our long-time romance with poverty. Let's stop that," Meylene Rosales, the NEDA regional director, said in an interview after the launching held at Summit Hotel, this city.
"Of course, we have to improve our economy for us to create more jobs, decent jobs," she added.
During the event, government officials, including representatives of governors, pledged on their commitment to support the six-year regional development plan.
Among them was Ormoc City Mayor Lucy Torres Gomez, who is also the regional chair of the Regional Development Council.
She vowed to make the development plan and the various projects contained on it, to become a reality.
"Let us all help together (to achieve the regional development plan)," she said in her video message.
In the six-year implementation of the regional development plan, it is expected that the region's economic growth will reach up to 8.5 percent from 6.8 percent in 2021.
Also, the number of unemployed will go down to 5.2 percent by the end of the year of implementation of the program. At present, the region has a 6.6 percent unemployment rate.
Key sectors like agriculture, tourism, and infrastructure were also provided with projects to keep up with the goal.
In the agriculture sector, the regional development plan intends to construct more farm-to-market roads with a budgetary allocation of P17.2 billion; support to farmers in terms of equipment and facilities in the amount of P7.06 billion and irrigation system with an estimate allocation of P200 million, among others.
In the field of tourism, the regional development plan eyes P3.2 billion for the improvement and upgrading of various tourism sites of the Eastern Visayas.
Meantime, the area of infrastructure, which has higher allocations, among the identified projects includes P1.5 trillion intended for the upgrading and expansion of roads and bridges.
This includes the second phase of the South Samar Coastal Road Project in Northern Samar involving an amount of P7.35 billion; the construction of a new San Juanico Bridge with a tag price of P9.17 billion; the rehabilitation of the Daniel Z. Romualdez Airport, the regional airport based in Tacloban at P4 billion; and the construction of a P200 million Eastern Visayas railway system, among others.
Rey Gozon, the assistant regional director of the Office of Civil Defense, said that they are happy that several projects have been identified in the fight against climate change and natural disasters.
This includes the construction and upgrading of evacuation centers with an amount of P1.5 billion; improvement and upgrading of waste management and sewerage system and P5.9 billion urban development and public housing projects.
"These (identified projects) will help us mitigate the impacts of natural disasters and in our campaign to be resilient. Based on our Yolanda experience, all of us started from scratch," Gozon said, referencing on the impacts the region experienced after Eastern Visayas was pummeled by Super Typhoon Yolanda in 2013.
Meantime, Rosales said that they are hoping that these projects will be given the needed budget by the national government under Pres. Ferdinand 'Bongbong' Marcos, Jr.
"Actually we are also looking at that as a very good opportunity for our region. We really need champions who were really push for development and who can relate to us," she said.
"We are banking on them because they are half-Warays," Rosales said.
The President's mother is former first lady Imelda Marcos whose late younger brother, Benjamin, is the father of House Speaker Romualdez who represents Leyte's first congressional district.
JOEY A. GABIETA