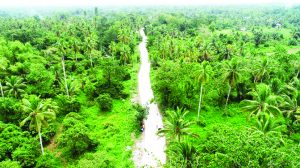 TACLOBAN CITY– Aiming to give a better service road for the residents of Barangay Anibong in Jaro town, the Department of Public Works and Highways (DPWH) constructed a road to provide them a quick access leading to Barangay Hibucawan along the Palo-Carigara-Ormoc (PCO) road.
Leo Edward Oppura, the district engineer of the Leyte Second District Engineering Office, mentioned that the project costs P9.78 million and was able to concrete 1.32 lane kilometers with provisions of application of reflectorized thermoplastic pavement markings to ensure the safety of motorists, especially at night.
Residents are now benefiting from the newly constructed road, they are now able to travel worry-free, and travel time and costs are lower, thus providing them with more opportunities.
Likewise, local traders will no longer endure the poor road network that restricts their economic activity.
(LIZBETH ANN A. ABELLA)