Aside from health problem, Avila has to contend poverty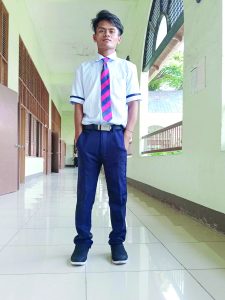 TACLOBAN CITY- Jay Avila, at 22 years old, is now at the doorstep of his ambition to become a teacher.
But what makes it remarkable is Avila has suffered a stroke attributed to a brain tumor detected back in 2017, when he was in his Grade 8 or second-year high school.
While he stopped his studies for a year, Avila resumed his studies in 2019. And he has to walk from their village in Bulao, Basey town in Samar province, to reach his school located in the town proper, as he has no money to take a ride.
That is an hour and 30 minutes of slow, painful walk for him, he said.
"I have to start walking at 4 or 5 am in order to reach school before 7 am," Avila said in an online interview.
He also earned some money with his classmates paying him P20 whenever he drew them for a school assignment while some of them also volunteered to pay for some of the school contributions.
"Some of my teachers took pity on pity as they also gave me some cash," Avila said.
The little money that he gets is used by him to buy his daily needs like meals and other personal stuff.
But despite the hardships, he was able to finish his senior high at Basey National High School on July 11 this year.
And now, he is enrolled at the Leyte Normal University, this city, taking up secondary education.
Avila's life is a stuff worthy of a 'teleserye.'
He was just seven years old when his mother, for no apparent reason, abandoned them, leaving behind his distraught father and five other siblings.
His father died in 2013 due to a lingering illness.
Except for his younger brother, Kent, 16, his other siblings are either in Manila or in Mindanao.
Kent lives with his paternal grandmother who resides in the same village of Bulao.
Avila, meantime, has to take shelter from his friends and even at the village chapel.
"Due to some misunderstanding with my grandmother, I have to leave my younger brother behind and chose to live somewhere else. I think I have taken shelter to at least 10 houses of my friends, and even at the church," he said.
At present, he lives with a friend, also in Basey, whose personal life is also similar with his, Avila said.
"I am grateful for all the help that was given to me by my friends, even total strangers," he said.
In fact, his school uniforms were given to him by his friends. His tuition fee, when he enrolled at the LNU, were also shouldered by a donor who learned of his predicament.
Another friend also promised to pay for his boarding house in the city, Avila said.
"I am forever grateful to them for helping me. I could not pay them except a promise that I will make good of my studies, finish it and become a teacher," he said.
And once he become a teacher and with enough income, he vowed to pay it forward by helping others who need assistance just like him, Avila said.
"And I won't get tired despite of my condition. I told myself that so long I could still walk, I will continue to dream and reach my ambitions in life," he said.
(JOEY A. GABIETA)