TACLOBAN CITY– Mayor Alfred Romualdez commended the stakeholders and supporters of the Anti-Drugs campaign in Tacloban in his welcome address during the Anti-Drug Summit 2022 at the Tacloban City Convention Center yesterday, November 24.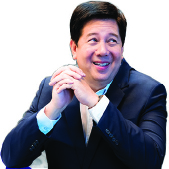 He also highlighted the significant role of the family in addressing the illegal drug problems by asking for help and support from all family members.
With high emphasis, the City Mayor also congratulated the Persons Who Used Drugs (PWUD) who have submitted themselves to rehabilitation, and asked them not to be their family and loved ones' burden again.
He then thanked the authorities for doing everything to solve and drive out the drug menace in the city and asked for everyone's cooperation.
"I am here to tell all of you that we are sincerely, truly, and strongly behind the movement of anti-illegal drugs. And that, we eradicate these drugs all over the world and the Philippines, especially here in Tacloban. Too many lives have already been wasted. It must stop, and it must stop immediately," said Mayor Romualdez.
(TACLOBAN CITY INFORMATION OFFICE)