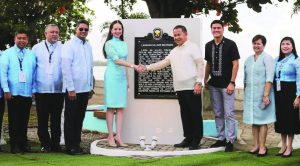 TACLOBAN CITY – Ormoc City Mayor Lucy Torres-Gomez lauded police authorities after they apprehended city government employees who are engaging in illegal drug activities.
Last Sunday (March 5), personnel of the Ormoc City Police Office (OCPO) in coordination with the Philippine Drug Enforcement Agency apprehended Arcelo Roble, 35, a casual employee at the Ormoc City Hall in a buy-bust operation.
The suspect is currently under the custody of the OCPO and was charged for violation of RA 9165 as amended by RA 10640 or the Comprehensive Dangerous Drug Act of 2002.
"The anti-drug operation that led to the capture of a government employee is incidental in the sense that there really should be no distinction when it comes to enforcing the law. Rich or poor, young or old, government employee or not —— no one is exempt. What applies to one applies to all," Mayor Gomez said.
The city mayor added that the law should apply to all equally no matter what their status in life may be.
"No one is above the law. What applies to one applies to all," the city mayor stressed.
The city mayor then lauded authorities for their continuous campaign against criminality like the anti-illegal drug operations to keep peace and order in the city ensuring the people's safety.
Mayor Gomez emphasized that her husband, Rep.Richard Gomez, had worked hard in making their city a safe and free from criminality particularly illegal drugs when he was the city mayor of Ormoc.
"I will do all possible to build up on and sustain those gains," Mayor Gomez said.
(ROEL T. AMAZONA)