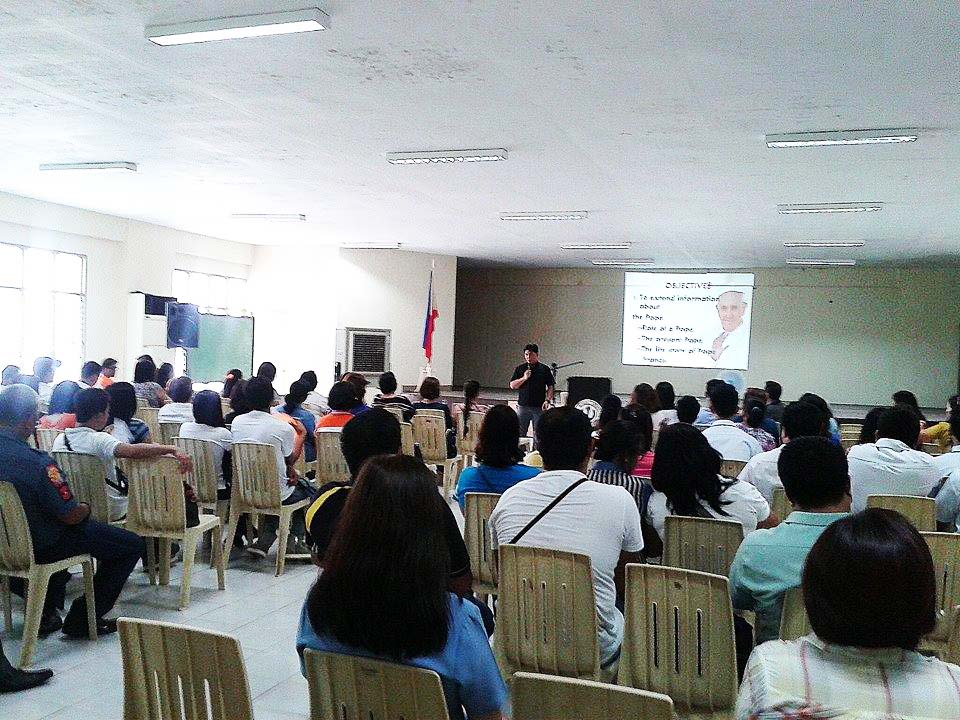 PALO, Leyte- Four cultural groups, besides the papal Mass grand choir, will provide gleeful welcome and departure to Pope Francis and his entourage on January 17. The committee jointly led by Msgr. Ramon Aguilos and Tourism Regional Director Karina Rosa Tiopes identified the performers from Leyte Normal University Dance company, Samleyaw of Eastern Visayas State University, Leyte Kalipayan Dance Company, the Inagta Children.
According to Rev. Fr. Bryand Restituto, member of the church committee on the papal reception at the Daniel Z. Romualdez (DZR) Airport, upon the arrival of the Pope at around 9:30 in the morning of January 17, the 8th ID band together with the LNU brass band will play the traditional "Mabuhay" song and a tableau dance presentation proceeds in the tune of the famed "curacha." As a matter of security arrangement, the performers will only enter the performance area upon arrival. They will simultaneously perform for only 5 minutes, while in the departure, the 250-man grand choir will render three songs including the Argentinean song The Amigos, to which the Pope is familiar.
Three Philippine Airlines chartered planes are expected to bring the Pope and his entourage which include dignitaries from the Vatican and the Pope's curia. The usual reception protocol will be accorded to the Pope and the dignitaries by the committee at the airport upon arrival until he goes to the makeshift sacristy to be put up near the altar at the airport apron for the papal Mass. Same courtesy wish will be shown to them upon departure at around five o'clock in the afternoon.
"We were told that the reception should be as simple, but as Leyteños, we cannot avoid but give him the best hospitality that we could," Restituto said. The performers as well as the individuals tapped by the committee to cordon the area from the tarmac to the airport apron are undergoing same prerequisites required, including security and physical, mental and spiritual fitness. They had their retreat on January 5 at the LNU student center, given by Rev. Fr. Kim Margallo, Commission on Youth of the Archdiocese of Palo. "We are looking forward to the coming of the Holy Father Pope Francis with great anticipation and joy," Aguilos remarked, underscoring the coming of the Pope as "no ordinary visit," but "an apostolic journey of the leader and pastor of the whole Catholic world." "It, too, is historic, it being the first time ever that the Pope sets his foot in our region, island, province, and the archdiocese. That explains why there is so much eagerness among all sectors for this event," he stressed.
"Beyond the material preparations all of us are tediously having, we entreat everyone that we put a high premium on the spiritual dimension of his visit," Aguilos added. The theme of the papal visit, "Mercy and Compassion", for him behooves "No better preparation other than our show of compassion to the poor and needy, as well as our mercy to the weak and the lost." Aguilos encouraged everyone to "prepare ourselves sacramentally by going to confession and communion. These will be the 'spiritual bouquets and garlands' that we will offer to the Holy Father, that is our holy and heroic lives, all in keeping with the Gospel values."
Tiopes meanwhile commented, "It is our nature as Filipinos that whenever we have visitors, we are proud to welcome them to our home." She added, "Pope Francis is not just any ordinary visitor, whom I personally have never dreamed in my lifetime that I will get an opportunity to see as pope in person. It is a great honor for all of us." She said the performances, which are "snippets reflective of the culture of the people of Eastern Visayas" are being showcased to let the Pope feel how very much thankful and happy the people of the region are to him for personally deciding to visit us after what we have been through."
(EILEEN NAZARENO BALLESTEROS)