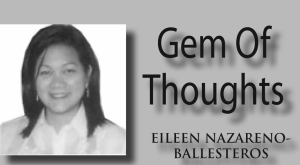 I was in my teen summers then when my feet dragged me to where my mind was simply pricked by curiosity for a chance to view a man whom the whole world looked up to in faith and respect. People were milling all over Taft Avenue then, about a kilometer away from my home. Overcast sky never budged the people at gazing at the Apostolic Nunciature cheering and clapping, others murmuring a sound I could hazily recall as "Praise You, Jesus! Praise the Lord!"
Pope John Paul II, now a saint, was at the veranda of Apostolic Nunciature waving at thousands well wishers below. Momentarily, the sight was all of "kabaduyan" and superfluity to me. I was completely indifferent until seconds after, the Pope shifted to his right continually waving at the people on the ground. For me, the Holy Father was looking at me beckoning me and telling me that I am to do a mission for Christ. Was it awe, scare or guilt? The tears spontaneously rolled downed my cheeks. I felt numbed. I could not tell why. After about thirty minutes of staying around, I went home with some kind of sensation that was engulfing my warm body. I was nervous, somehow shivering. I really did not know why except for one thing: I knew I saw Christ in person, through the Holy Pope John Paul II who is now a saint.
Beyond that was a more significant turn in my life. I was then active in neighborhood non-denominational Christian bible studies in Leon Guinto St (Malate, Manila) the place of my childhood abode then. I felt like I was being called to a more profound vocation to serve God – to be a nun, although in younger years, I promised myself that I would someday stand by the altar either a member of the choir or a reader (lector) during the mass.
Years went on I never became a nun due to financial reason. Or perhaps, I was not really meant to a nun at all. But the calling became so intense that I could not resist but be a constant churchgoer, regular Bible reader and still active in bible studies but now in the Catholic Church. Such beckoning I thought Pope John Paul II made upon me remained virtually forceful. I really do not know what awaits my future after such call. Yes, I never became a nun, I never had any opportunity to go for any local pilgrimage, I never even stepped my foot on any foreign embassy to apply for visa for pilgrimage overseas, I never had the chance to attend any Regional or National much less a World Youth Day, in as much as I desired.
But such accidental real life sight of the Holy Father, I have just come to a realization, was beyond any of the ambitions I have nurtured. The effects are still happening with more surprises in such vocation to serve God keep unraveling. I later became a lector, have been blessed with leadership privileges, became a journalist, a writer for Christ, have won two local Best Opinion Writer awards where I never failed to mention God's intervention and grace, and now writing for cbcpnews of the Catholic Bishops Conference of the Philippines. I could not ask for more, but if more will come, I know it is still part of the blessings of a personal sight of Pope John Paul II, now a saint.
On January 17, another Pope is coming to this country regularly plagued by natural and man-made calamities. The visit of Pope John Paul II brought so much blessings to millions of Filipinos who endeavored sincerely to welcome him and attend his events. Now the coming of Pope Francis to the Philippines, including the Archdiocese of Palo, sets off a shower of blessings upon those who will sincerely welcome him and pray with him.
If I will have the chance to see Pope Francis with my bare eyes, considering the very tight security measures to ensure his safety and the multitude who would like to atleast shake hands with him, and in spite of being among the applicants for a media ID for the papal visit coverage, will be another gift from God that I donot even deserve to receive. What could a sight of Pope Francis with my naked eyes bring to me? Perhaps, true conversion amidst the temptations around me and my weakness, my human nature. The Pope is the Vicar of Christ. He is Jesus' representative on Earth, the very Jesus whom I long wanted to embrace since my childhood, whom I always say sorry for my sins because I wanted to behold Him in Heaven.I know I could be privileged to see him near, but that is just my wish, which may never happen. I am very grateful for this singular grace to be in Tacloban (where I was transferred in my college days due force of circumstances). I was in Manila when I saw Pope John Paul II. I am now in Tacloban to see Pope Francis.
God is really gracious. I will not let this chance pass. If I have long wanted to see Luis Antonio Cardinal Tagle in person after years of viewing his The Word Exposed program on TV since he was yet the Bishop of Imus, how much more will I not desire to meet and greet Pope Francis? I need to do a lot of sacrifice to even swallow my pride. This I shall take on for a chance to see another Vicar of Christ in person. I hope I will be blessed. (Eileen Nazareno-Ballesteros)