About 3,391 candidates are seeking for posts in EV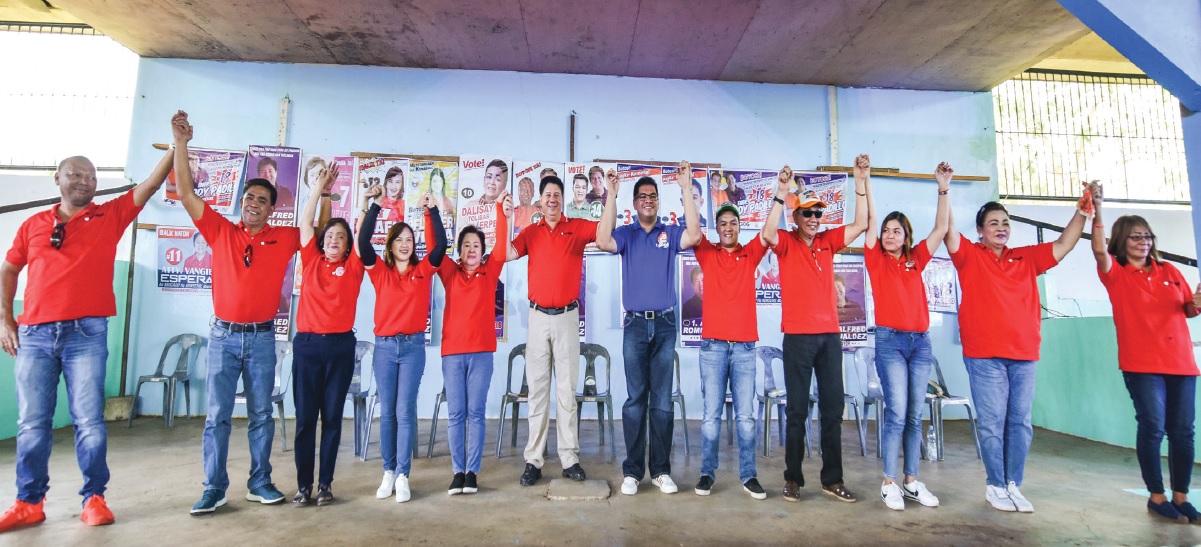 TACLOBAN CITY- Candidates seeking for local posts in this year's midterm elections officially kicked off their grueling,45-day campaign on Friday (March 29).
This early, the Commission on Elections (Comelec) has renewed their call for candidates to follow the elections law and conduct their campaign without resorting to mudslinging or violence.
Here in the city, former mayor Alfred Romualdez led his team on their initial barnstorming by attending a Mass at the Santo Niño Church, followed with a motorcade going to Barangay Suhi, a resettlement site for families who lost their houses during the onslaught of super typhoon 'Yolanda' in 2013.
And during his speech before their supporters and media, Romualdez, who was the mayor at the time Tacloban was pummeled by Yolanda, vowed to fully continue the rehabilitation of the city.
In particular, he said, this would include transfer of families who have yet to be relocated to the housing units constructed for them by the government.
"We are still having problems with the housing; not all utilities are in place. There are still houses without electricity and worst, water," he later said during a brief interview.
He asked the voters of the city to vote all his candidates seeking for the council seats, among them is Aimee Delgado Grafil, who is the current chairman on the committee on Urban poor and Housing Resettlement.
Other major candidates in the region also plunged on the first day of campaign period.
In Northern Samar, Governor Jose Ong and his nephew, Rep.Edwin Ongchuan took their first day of campaign at their home base in Laoang town.
Gov. Ong is seeking for the congressional seat of his nephew at the second district of the province while the younger Ong is running for governor. Both are unopposed.
In Eastern Samar, congressional candidates Mayors Sheen Gonzales of Guiuan and Maria Fe Abunda of Borongan, together with outgoing congressman and gubernatorial candidate Ben Evardone have their grand rallies.
In Biliran, Rep. Rogelio Espina and his 'Bando Espina' team also held their first day of campaign.
Other major candidates are expected to start their maiden rallies today, Saturday, like former congressman Ferdinand Martin Romualdez who is seeking a seat for Leyte's first congressional district and reelectionist Calbayog City Mayor Ronaldo Aquino.
For the May 13 elections, a total of 3,391 individuals have filed their certificates of candidacy in the region.
These candidates are to contest the following elective posts: 12 for congressional seats; six for governors and for vice governors; 56 for provincial board members; 143 for city and municipal mayors; 143 for city and town vice mayors; and 1,088 for city and town councils.
For Lydia Morante, head of the Graduates School of the Eastern Visayas State University (EVSU), based this city, she hopes that these candidates would truly push programs that would benefit their respective constituents.
For one, she said, these candidates should come up with a sustainable livelihood program so that their people would stop depending on the government for their daily needs.
"I think what the people need in Region 8 is livelihood. The citizens should have work. Build factories, industries that will provide continued work that they become self-reliant. They will not depend on government subsidy but earn their own living," she said.
Morante also said that education should also be given another priority, especially in sustaining the budget considering that education has become free, to include in the tertiary level.
Eastern Visayas, composed of the provinces of Leyte, Southern Leyte, Biliran, Samar, Eastern Samar, and Northern Samar is among the country's poorest provinces.
Based on the 2015 data of the regional office of the Philippine Statistics Authority (PSA), the region has a poverty incidence of 30.7 percent, making it the third poorest region in the country.
The region remain largely a predominant agricultural region with majority of its more than 4 million depends on agriculture, particularly on palay and copra production.
BY: JOEY A. GABIETA w/ Rachel V. Arnaiz,
Jennifer Sumagang Allegado