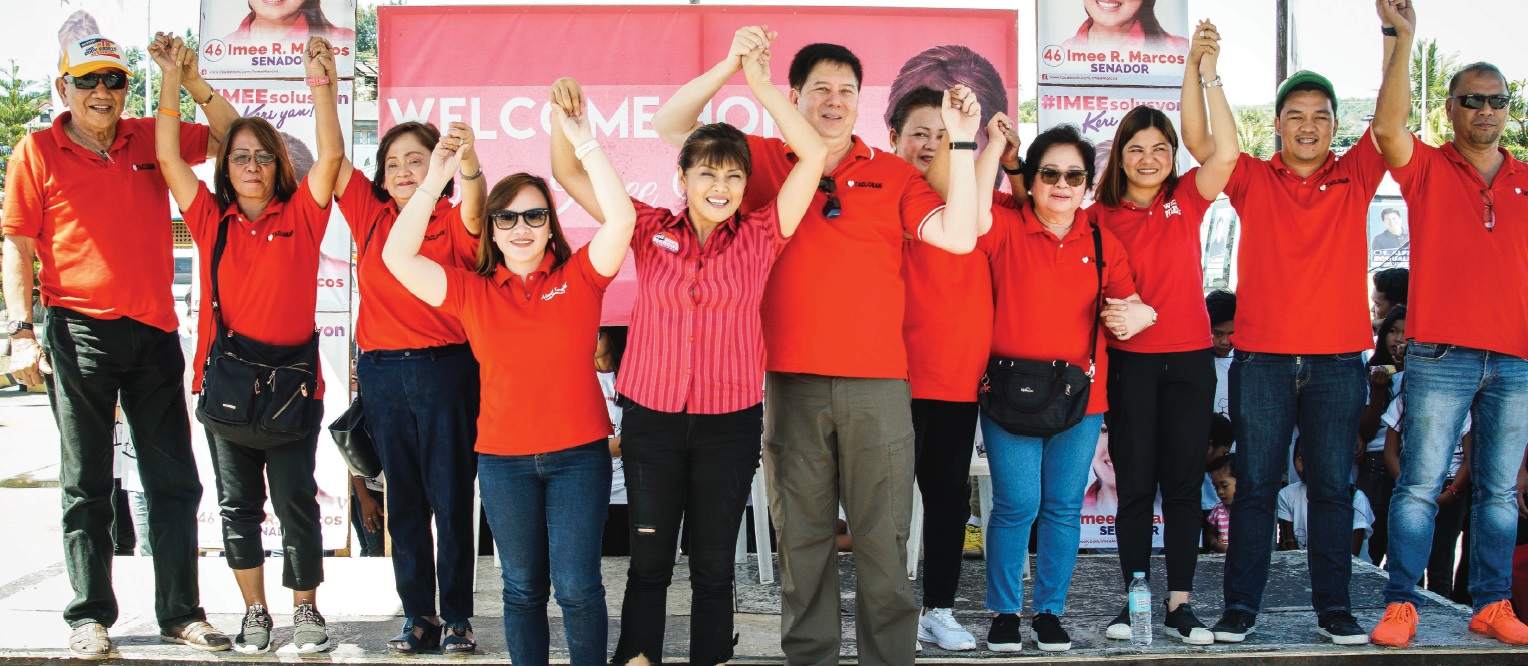 TACLOBAN CITY- The daughter of former first lady Imelda Marcos, Ilocos Norte Governor Imee Marcos, appeals to the voters of Eastern Visayas to support her Senate bid.
The younger Marcos was in the city Sunday (March 31) to campaign here, the region's most vote-rich city with 139,422 voters.
The Senate aspirant toured around the city and was accompanied by her cousin, Alfred Romualdez who is running for mayor.
This was the second time that Marcos was in the city after she formally sought for a Senate seat.
Marcos was in the city during the regional grand rally of the administration- backed Hugpong ng Pagbabago last March 19.
The outgoing Ilocos Norte governor said that it has been decades since the region had a representative at the Senate and it's about time that the region, among the poorest in the country, should have one.
"The region needs a representative sa Senate who will for see the region's issues," she said.
During the 2016 elections, her cousin, Ferdinand Martin Romualdez, ran unsuccessfully for senator. He is now running as a congressman for Leyte's first congressional district currently occupied by his wife, Yedda Marie Romualdez.
Rep. Romualdez is now the first nominee of party-list group Tingog with Jude Acidre as the second nominee.
Marcos, in her campaign sortie here, asked the people to also vote Tingog.
Gov. Marcos said that she has so much plans for the region once she gets elected to the Senate, particularly in addressing its poverty situation by providing its people, particularly the economically marginalized, opportunities.
Among these plans, she said, is the revival of the Kadiwa Centers which will sell cheap but better qualities of basic necessities like rice.
Kadiwa Centers or terminal food centers, were established during the time of her father, former president Ferdinand Marcos, aimed to bring down prices of basic commodities.
"Kung kaya pa-ubson an bugas, kaya liwat an iba nga papliton, kon kaya namon ha Ilocos, kaya liwat naton dinhi ha Rehiyon Otso," she said.
Marcos claimed that the poverty incident in her province of Ilocos Norte was addressed and reduced drastically under her administration.
Aside from former mayor Romualdez, Marcos was also joined by council candidates, namely, Aimee Delgado Grafil; Evangeline "Vangie" Esperas and Dr. Elvira Galapon Casal, all incumbent councilors; radio broadcaster Marvin Modelo; Elizabeth Lesiguez, Rody Padillo, Leo Bahin, Brian "Yan-Yan" Granados, Dalisay Tolibas Erpe and Wena Pfleider.
BY: GAY GASPAY, CONTRIBUTOR